Ben Akren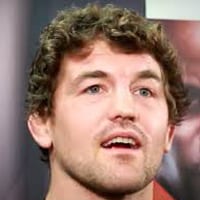 DOB: July 18th, 1984
Birthplace: Cedar Rapids, Iowa
Nickname: Funky
Gym: Roufusport
Style: Wrestling
Weight Division: Welterweight
Championship: Bellator Welterweight Championship, One FC Welterweight Championship
Askren's wrestling career
Before getting into MMA, Askren was a highly accomplished amateur wrestler. Starting in high school, he wrestled at Arrowhead High school in Wisconsin, where he won 2 state titles.
Askren's successful high school wrestling career earned him a scholarship to the University of Missouri. During his wrestling career, he would earn the nickname "Funky" due to his unorthodox style, afro, and lanky body.
In his first two years, he would make it to the national finals losing to Oklahoma wrestler Chris Pendelton. Although in his last two years after losing 2 years in a row, he would win back to back titles.
He would finish his college career with a record of 153-8 with 91 being by pinfall. This is the third most falls in NCAA history along with being one of the most award winning wrestlers ever.
After a successful collegiate career, Askren would get on the Olympic team and compete at the 2008 games. Although in college, he wrestled folkstyle, but in the Olympics had to wrestle freestyle.
Askren would win his opening round match, but lose to Cuban Ivan Fundora in the 2nd round. Coming up just short of medaling at the games.
Askren's early MMA career
With his highly decorated wrestling background Askren made his highly anticipated entry into MMA. He would have 3 pro fights winning all by finishes in the first round before getting a call from Bellator.
Askren's Bellator run
Ben Askren was probably the most dominant fighter in the history of Bellator MMA. He would fight for the company from 2010-2013.
In that time, he won the Bellator welterweight, the welterweight title, and defended the belt 4 times. His last defense was a TKO win Russian fighter Andrey Koreshkov.
That fight was the last fight on his contract and with Askren wanting new challenges he vacated the belt. 
Askren's One Championship run
After Askren's time with Bellator was over, he found himself with One FC. The biggest combat promotion that runs shows exclusively around the Asian continent.
There he would continue his successful MMA career going 6-0 with 1 no contest in 4 years. In those 4 years, Askren would add another title to his collection winning the One FC welterweight championship. Beating inaugural champ Nobutatsu Suzuki by TKO.
Askren would defend the belt 3 times beating the promotion's top fighters including the legend Shinya Aoki by TKO. 
Askren traded to the UFC
In a first between two MMA promotions, the UFC offered to trade former flyweight champ Demetrious Johnson to One for Askren. 
In his first UFC fight, Askren would fight former welterweight champion Robbie Lawler. Askren would take damage, but finish the fight with a bulldog choke, which was highly controversial since Lawler didn't tap.
Askren would meet another tough veteran in Jorge Masvidal and would suffer his first professional loss. Losing within the first 10 seconds from a flying knee.
Ben would meet Jiu Jitsu world champion Demian Maia, It would be back and forth, but Askren would lose again by triangle choke.
After suffering the first two losses of his career, Askren announced his retirement. Citing that he needed a hip replacement from years of competing in wrestling and MMA.