Nick Diaz News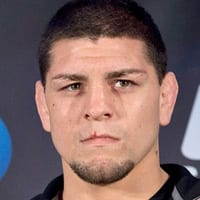 DOB: August 2nd, 1983
Birthplace: Stockton, California
Nickname: N/A
Gym: Caesar Gracie Jiu JItsu, Perez Boxing
Weight Class: Welterweight, Middleweight
Championships: Strikeforce Welterweight Champion
Diaz's tough childhood
Nick Diaz grew up on the rough side of town in Stockton, California. From an early age all Diaz wanted to do was fight.
His mother let him participate in various martial arts from an early age to keep him busy. Nick trained in everything from karate, aikido, wrestling, and sambo.
At 16, he started training in MMA after watching Renzo Gracie fight. He would start training at Animal House, but move to Caesar Gracie's school.
Diaz's early MMA career
Diaz made his pro debut just after turning 18 years old fighting for IFC Warriors. Nick would win his pro debut by submission and then win his 2nd fight against future UFC vet Chris Lytle.
He would go on to win his next 2 fights before taking his first loss. Losing to another future UFC vet Jeremy Jackson.
Nick would go 3-1 in his last 4 fights before getting the call to fight for the UFC. This included winning the WEC title and a rematch against Jeremy Jackson.
Diaz's first UFC run
At barely 20 years old, Nick Diaz would make his UFC debut against Jeremy Jackson for the 3rd time. Winning his debut by armbar and the trilogy against Jackson.
Diaz would put himself on the map with a breakout performance in his next fight. Going against a young and dangerous Robbie Lawler.
Throughout the fight Diaz would taunt Lawler, luring him into a slugfest and countering him. The fight continued until Diaz landed a final counter to KO Lawler.
Nick would take his first UFC loss in his next fight losing a close split decision against Karo Parisyan. The Stockton native would go 5-3 in his next 8 fights before moving on from the UFC.
Diaz's EliteXC and Strikeforce runs
Diaz would have an epic fight in Pride with Takanomi Gomi that he would win by gogoplata after his UFC release. He then found himself  fighting for EliteXC.
Nick would win 2 fights with the promotion before they went under and then signed with Strikeforce. In Strikeforce, Nick really came into his own as a fighter.
Going on to beat numerous top fighters like Frank Shamrock, Paul Daley, and Evangelista Santos. He would go 7-0 in Strikeforce and win their welterweight championship before they were bought by the UFC.
Diaz's UFC return
In 2011, Diaz made his return to the UFC to face MMA legend BJ Penn. The fight took place at UFC 137 and was very one sided.
Diaz controlled the fight with his boxing skills to batter Penn and win a unanimous decision. This put him in line to fight Carlos Condit for the interim welterweight title.
Nick would lose the title match by decision and then get suspended for a positive marijuana test. After serving his suspension, he would come back and lose another title fight to champion Georges St Pierre.
Diaz would then go on a hiatus from fighting and would return until 2015. Facing Anderson Silva at middleweight and losing a controversial decision to the former champion.
After the fight Diaz tested positive for marijuana again and was banned for 3 years and still hasn't fought since.