Georges St Pierre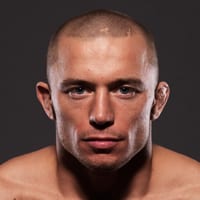 DOB: May 19th, 1981
Birthplace: Saint-Isidore, Quebec, Canada
Nickname: Rush
Gym: Tristar, Renzo Gracie Academy
Style: Karate, Jiu Jitsu
Weight Class: Welterweight, Middleweight
Championships: 2x UFC Welterweight Champion, UFC Middleweight Champion
GSP's entry into martial arts
Georges St Pierre had a rough childhood, where he was constantly bullied in school. At age 7, he began learning Kyokushin Karate to defend himself from bullies.
He would train strictly karate for the next decade until his instructor died. Pierre then started training in wrestling and Jiu Jitsu.
GSP's early MMA career
GSP trained MMA for 3-4 years before making his pro debut at 20 years old. His first 5 fights were all in Canada.
Pierre would go 5-0  with 4 finishes early in his career. Winning a local promotion's title in his 2nd fight.
GSP's early UFC run
At 22 years old, GSP made his UFC debut against Judo standout Karo Parisyan. He won his debut by decision and won by TKO in his 2nd fight by TKO against Jay Heiron.
Many MMA experts expected Pierre to be the next big thing in MMA. In just his 3rd UFC fight, he would face champion Matt Hughes.
In the fight, GSP was winning, but had a mental lapse and was submitted by armbar. Even GSP admitted, he let the moment get to him, but vowed to never let it happen again.
He wouldn't meet the champion Matt Hughes until 2 years later. In between that time he won 5 fights in a row to get another title shot.
GSP did not make the same mistake in his rematch against Hughes. He outclassed Hughes in every facet before dropping Hughes with a head kick and finished him with strikes.
Securing his first title in the UFC.
GSP's title loss and comeback
In his first title defense, GSP suffered a shocking loss to TUF winner Matt Serra. It was one of the biggest upsets in UFC history.
After the loss, GSP switched camps going to Tristar and cross training at Renzo Gracie's Academy in NYC.
In his comeback fight, he grinded out a decision against Josh Koscheck and submitted Mat Hughes in their 3rd fight. Setting him up with a rematch against Matt Serra.
Georges did not make the same mistake twice and battered Serra for two rounds before the referee stopped the fight. Winning back the welterweight title.
GSP's 2nd welterweight title run
After winning his title back, GSP went on to have the greatest reign of any UFC welterweight champion.
He would defend his title 9 times in 5 years. Beating some of the best fighters in the world from BJ Peen, Jon Fitch, Carlos Condit, Jake Shields, and Nick Diaz.
In his last fight, he would have his toughest fight against Johny Hendricks. Pierre took a lot of damage in the fight winning a close split decision. 
After the fight, Pierre announced he was stepping away from fighting for personal reasons and to heal.
GSP's comeback
After a 5 year absence from the sport, GSP returned to middleweight to fight the champion Michael Bisping.  He showed no signs of rust from his time away from fighting and looked like he had improved.
In the 3rd round, he took Bisping's back, sinking in a RNC and putting the champ to sleep. Winning his 3rd UFC title.
After the fight, he dropped the belt again and announced his retirement.