Anderson Silva Failed Pre & Post Fight Tests For Steroids & Anti-Anxiety Pills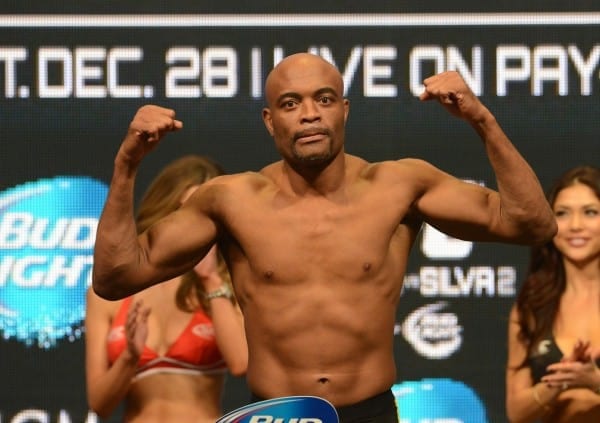 Anderson Silva has failed three drugs tests now……..
We reported just about a week ago that Anderson Silva had failed a second drug test, but weren't able to specify what the second failure was for. He had originally been popped on a January 9th drug test failure with  drostanolone metabolites and androstane in his system. He passed a test on January 19th, but it looks like he failed another two tests after that.
His UFC 183 pre and post fight tests both came back positive. MMAJunkie first broke the news:
The pre-fight test showed drostanolone metabolites once again, evidence of performance-enhancing drugs. Meanwhile, the post-fight test was positive for oxazepam and temazepam. Those medications are used to treat anxiety and insomnia, respectively.
What the heck is going on? These tests allegedly took place on the day(s) immediately preceding the fight, and also on fight day after the fact. So Silva pissed dirty on the 9th of January, clean on the 19th, and dirty again twice for the UFC 183 pre and post fight tests.
Anderson Silva has been caught with a cocktail of different banned substances in not one, or two, but three separate tests. This is about as damning as could be for the former middleweight champion's image.
Who'd have thought after his epic rivalry with future drug cheat Chael Sonnen ended, that "The Spider" would befall the same fate. His fall from grace is perhaps much more telling of the overall drug problem in MMA.
Stay tuned to the live NSAC (Nevada State Athletic Commission) updates page to learn more about how Anderson Silva, Nick Diaz and Hector Lombard will be dealt with.