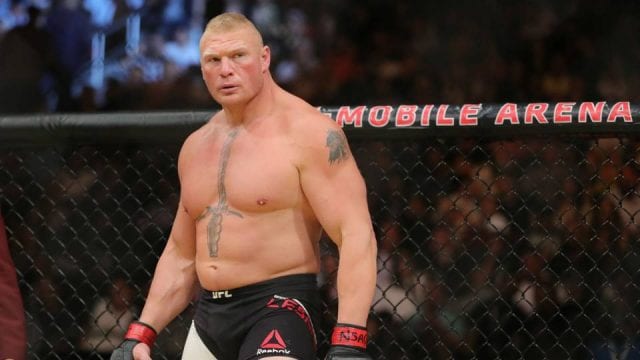 Former UFC heavyweight champion Brock Lesnar is supposedly returning to mixed martial arts (MMA) for a showdown with Daniel Cormier next year.
The fight, although not official, became a distinct possibility when Cormier won the heavyweight title from Stipe Miocic at July's UFC 226. After Cormier knocked out the former champ, Lesnar shoved "DC" and put the heavyweight division on blast.
But booking the fight isn't all that easy. Lesnar last fought when he beat Mark Hunt via unanimous decision at July 2016's UFC 200. News soon broke that Lesnar had failed multiple drug tests for banned estrogen blocker clomiphene, however. The win was overturned to a no contest and Lesnar went back to WWE.  It was thought he had retired from MMA.
When he made tentative plans to return, Lesnar was subject to the six-month testing window all returning fighters must go through when un-retiring. Attention on his drug testing was amplified not only due to his failures but also because the UFC granted him a controversial waiver to avoid the period before UFC 200.
Lesnar is being tested as of now, but Dave/Dim of MMA Today News reported that after careful analysis of the testing pool, one of Lesnar's tests has gone missing or been removed:
The UFC and Lesnar's team have yet to comment on the matter. However, eyes will obviously be on this issue considering Lesnar's past history with performance-enhancing drugs. His prior waiver from the UFC certainly doesn't help, either.
Again, Lesnar's UFC return has not been made official, but Cormier has often stated he wants him drug tested to the fullest extent of USADA's capabilities. This may be an oversight or a mistake, but it's definitely something to keep an eye on.
If you enjoyed this story, please share it on social media!