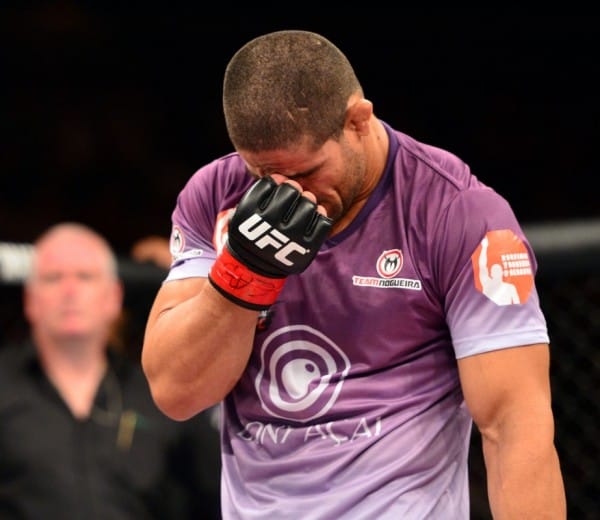 World Series of Fighting (WSOF) welterweight champion Rousimar Palhares' latest controversy in the main event of last Saturday night's (Aug. 1, 2015) WSOF 22 from Las Vegas may have left his opponent Jake Shields with some grotesquely damaged eyes from repeated gouges and a sore shoulder from a Kimura that many feel was cranked long after Shields had tapped, but that isn't going to stop the brutalizing 'Toquinho' from insisting that he's still not a dirty fighter.
Even after WSOF vice president Ali Abdelaziz confirmed that he had committed both of those infractions and a punishment would be coming tomorrow (Tues., August 4, 2015).
Speaking to MMAFighting.com to explain his stance, Palhares said through a translator that he did not intentionally gouge Shields' eyes, and was merely trying to protect himself:
"I just protected myself. He put his head on my nose. I just put my hand there to protect myself. I did not put my fingers in his eyes. You can see it at the time."
Palhares also insisted that he did not hold the fight-ending submission on Shields for too long, believing that he stopped immediately when referee Steve Mazzagatti touched him despite video showing clear evidence otherwise:
"I did not hold his arm (after the tap)," Palhares said. "The [referee] said to me before the fight, 'just go out there, if I put my hand on you, stop.' And when he put his hand on me, I stopped. I stopped. Sometimes in the fight, it's hard; it's difficult to feel something. When it felt it, I [stopped]."
Indeed it may be hard to 'feel something' in the heat of the moment, but again, this is merely the latest example of blatant disregard of the rules for Palhares, who was first suspended and then kicked out of the UFC for doing just that following his vicious 2013 heel hook submission over Mike Pierce.
And despite the fact his WSOF 22 win bonus was withheld pending an investigation of the alleged infractions, he continues to convey his message that the claims of him being a dirty fighter sadden him, because he feels he had Shields in several bad spots:
"I'm so sad, because I'm not a dirty fighter," Palhares said. "I just had good position, you know? And sometimes the fight is difficult. If you see the fight, I won in the striking with Jake Shields, I put a lot of hands on him, and I put him in (bad) positions. So when guys say that I'm dirty, I'm so sad about that."
But at this point in time, his cries may fall on deafened ears. Shields was taken to the hospital to have his impaired vision examined, and Pierce still hasn't fought since his fateful injury at the hands of 'Toquinho.'
It was a bit surprising to see WSOF sign and defend him with such fervor, and they continued to defend him even after some mild controversy when he won the belt by cranking a heel hook on former champion Steve Carl. Promotional president Ray Sefo conveyed that Palhares would be gone if there were any 'funny business,' and this certainly fells well within that category.
So now they've almost assuredly come to regret their decision, and with punishment on the horizon for the dominant but controversial Brazilian Jiu-jitsu expert, Abdelaziz stated that although he likes Palhares, he clearly has problems that are standing directly in the way of his career:
"I like Palhares, I think he's a nice guy, but I think he has problems," Abdel-Aziz said on Saturday night. "I think he has problems, and we had an amazing event, and he didn't have to hold (the submission late). He didn't have to hold at all because he won, he tapped him. Let him go. Let the guy go."