Ronda Rousey may be semi-retired from mixed martial arts (MMA), and now she's got some big plans for her future.
News arrived from TMZ Sports this afternoon (Thurs., April 20, 2017) that Rousey recently got engaged to her boyfriend, UFC heavyweight Travis Browne:
"We're getting married," Rousey said.
Browne elaborated on his proposal, which included a large diamond ring for his queen. "Hapa" said the time was right during a picturesque scene on a recent trip to New Zealand:
"We were out under a waterfall in New Zealand and it felt like the right place to do it."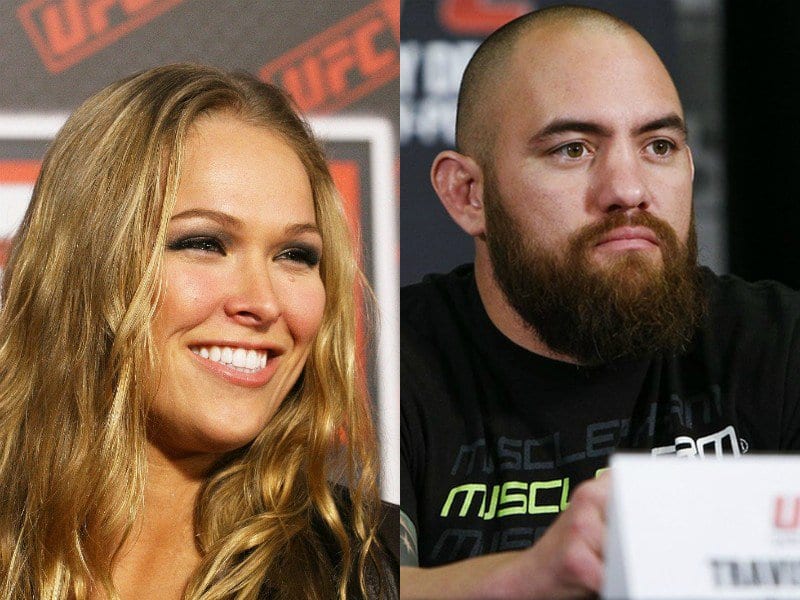 Rousey then revealed the couple hadn't set a date for the nuptials, but didn't want an all-out gala involving too many details, as she didn't know what all went into planning a big wedding:
"Soon, but I don't know what goes into planning a wedding. It could be really easy. I don't really want a lot. We don't really need decorations or flowers, just somewhere to go and something to eat and some people around."
Rousey and Browne have been dating since 2015 after training together at Edmond Tarverdyan's Glendale Fighting Club. That shared meeting place obviously worked wonders for their love life, but it's also been the center of a hotbed of controversy surrounding the concerning direction both fighters' careers have taken in recent years.
Rousey is unlikely to return to the sport after two knockout losses to Amanda Nunes at UFC 207 and Holly Holm at UFC 193, while Browne has lost five out of his last seven bouts, including a stoppage defeat to Derrick Lewis in a his last bout. "Hapa" had supposedly sought a change of scenery prior to the loss to "The Back Beast," a fight he very nearly won only to lose, but Tarverdyan was still in his corner.
As for the once-dominant queen of MMA, she's been seen in a guest role on NBC's "Blindspot," a role that could turn reportedly into a more frequent one, but her future involvement, if any, with MMA is currently unknown.