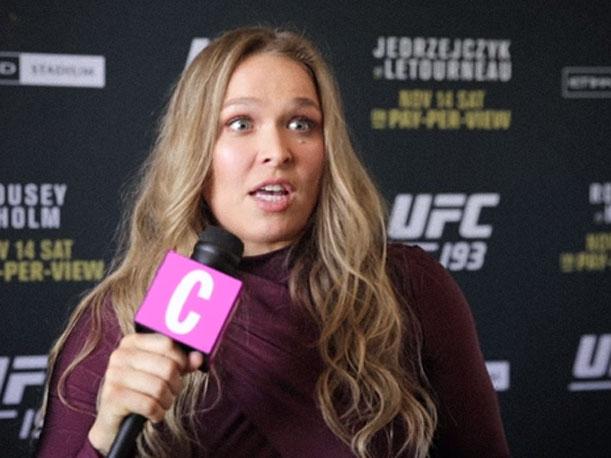 Most view the UFC's new and increased drug testing efforts to clean up fighting as only a positive, and women's bantamweight champion Ronda Rousey is at the forefront of that opinion.
Involved in a long back-and-forth with Invicta FC featherweight champion "Cyborg" Justino over her insistence that the former Strikeforce champion cut down to bantamweight to face her after a failure for performance-enhancing drugs (PEDs) in late 2011, Rousey is willing to walk the walk after talking the talk.
In a recent interview with USA TODAY, Rousey said that when testing agents come to administer random tests to her, she welcomes them with open arms. To her, it's merely a suggestion that she's so elite that people have to cling onto the false hope that she's using something to beat her opponents in record time:
"Any time they get here I am like 'What's up, make yourself at home, do you want to stay and watch training?' They are here for us, they are not here to come and get us.
"I encourage it all the time. I am so successful that people are going to cry 'drugs' on me. I get in better shape and my body is better than ever. I want those opportunities to (show) I'm clean all the time."
As a staunch opponent of PEDs who's long suggested that "Cyborg" could certainly make 135 pounds off of steroids if she is able to make 145 pounds on them, Rousey could really have no other view than to happily comply with any and all new drug testing procedures.
She's been an elite athlete for essentially her whole life, and she's only getting better heading into her potentially groundbreaking title defense against the undefeated Holly Holm at November 14's UFC 913 pay-per-view (PPV) event from the 70,000 seat Etihad Stadium in Australia.
With two demolishing finishes in a grand total of 48 seconds in 2015, it's looking like the only way for Rousey to lose her belt would be to fail a drug test. Unfortunately for her opponents, it seems like she's more than happy to prove that just won't happen.