Ronda Rousey Finally Speaks, And You May Not Like What She Said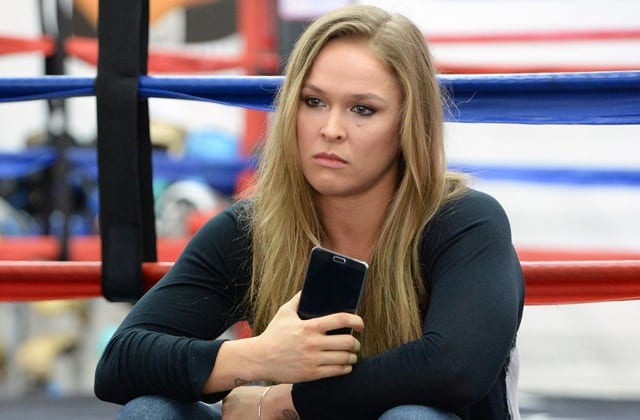 Still feeling the aftereffect of her devastating knockout loss to Holly Holm in the main event of November 14's UFC 193 from Melbourne, Australia, former UFC women's bantamweight champion Ronda Rousey has had precious little to say as she's mainly stayed out of the limelight in the weeks since.
"Rowdy" has only released one cryptic post saying she'd be fine on social media, and she has only been spotting sparingly in Los Angeles walking her dog with boyfriend Travis Browne. But today (Mon., December 7, 2015) Rousey has finally made her thoughts and feelings known in an interview for her latest cover appearance on ESPN The Magazine's "Ideas of the Year" issue.
In a preview of the interview via People Magazine, Rousey said she was "really f—–g sad" about the sobering loss to Holm that knocked her off her lofty position as MMA's most dominant fighter.
Rousey sustained multiple injuries like a split lip that required surgery, and some of her teeth are still not stable from the vicious bout. As a result, she then revealed some potentially disappointing news to fans expecting her to immediately rematch Holm at July's UFC 200:
"It might be three to six months before I can eat an apple, let alone take an impact."
That's certainly a devastating blow to hear for those hoping to see Rousey back in action in July, but in reality, it's not the most surprising thing to hear. After all, Rousey got dominated by a better fighter that fight, and aside from healing from her ailments, she obviously has to rework a lot of things in her game if she's going to come back and beat the new dominant, undefeated queen of the bantamweights.
The former queen also has a movie to film with Mark Wahlberg, and while her public image and scope are still growing, it's also clear that that exhausting schedule may have cut into her ability to be the top female fighter in the world. Rousey isn't deterred, however, saying that she wouldn't slow down and will try to do everything while still in her prime:
"Maybe I can't do it all before my prime, before my body is done," she says. "But f— it, maybe I can." 
That sounds like a far cry from her statements before the loss to Holm, where she said no one "had the right to beat her" and she was going to retire undefeated. Now facing a lengthy recovery time, has Rousey's once flawless confidence begun to wane after her first-ever defeat?