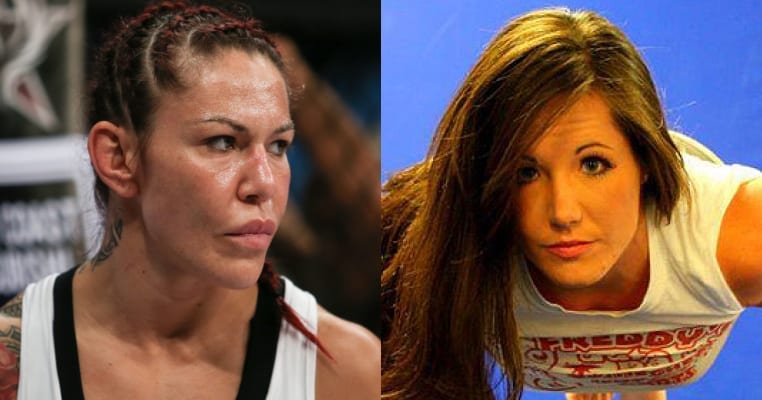 Cris Cyborg is doing more than enough to stay in the public eye and earn a high-profile UFC bout.
The former Invicta FC featherweight champion, who is far and away the best 145-pound female fighter in the sport and arguably the most dominant pound-for-pound woman in MMA overall, reportedly took offense to some incredibly personal tweets from The Ultimate Fighter (TUF) competitor and UFC women's strawweight Angela Magana.
And according to a report from Ariel Helwani, when Cyborg ran into "Her Majesty" at this weekend's UFC fighter retreat in Las Vegas, she had enough of the abuse and confronted Magana. Things escalated from there and Cyborg ended up punching Magana:
Cris Cyborg & Angela Magana just got into an altercation at the retreat. Words exchanged, tempers flared and Cyborg punched Magana.

— Ariel Helwani (@arielhelwani) May 21, 2017
Apparently Magana was rocked but did not fall to the ground from the punch before security broke up the altercation:
Magana was rocked but didn't fall to the ground. It was broken up after. Cyborg has been very upset about some personal tweets from Magana.

— Ariel Helwani (@arielhelwani) May 21, 2017
After the scuffle, Helwani said tensions remained high in the area and security was present to control the situation:
Hearing from many people there that tension is building and there's little security present. The retreat, btw, ends tonight.

— Ariel Helwani (@arielhelwani) May 21, 2017
But Magana's close friend and fellow UFC women's strawweight Bec Rawlings replied to explain that Magana wasn't rocked and took the punch well despite having a busted lip:
Magana was not rocked ???????? she took it like a G, but does have a busted lip.

— Bec Rawlings (@RowdyBec) May 21, 2017
Long feared as the most dangerous knockout striker to ever fight in women's MMA, Cyborg has had trouble finding opponents who are even close to her size or skill level, leading to the suggestions that she has never had legitimate competition in the cage.
She's currently campaigning for a bout with current Invicta FC featherweight champion Megan Anderson in an effort to show everyone she can defeat an elite fighter her size (well, in her weight class), but today, it seems she's still taking it to women who are quite a bit smaller than she is.
But hey, it's easy to see why Justino lost her cool after all the shaming social media posts she made about Cyborg over the past few years.