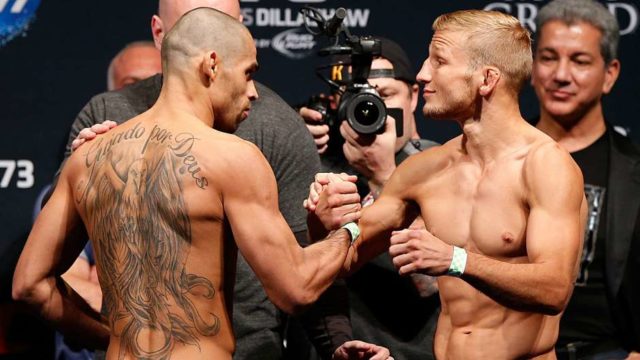 Former UFC bantamweight champion Renan Barao returns to action tomorrow (Saturday December 20th, 2014) as he attempts to get back on track against Mitch Gagnon at UFC Fight Night 58. It's been a long road back to the octagon for Barao since his UFC 173 starching at the hands of TJ Dillashaw, and the bout with Gagnon holds certain legacy-threatening implications.
Having already challenged "The Viper" to a rematch in Brazil, it's clear that the Nova Uniao product has his Alpha Male counterpart in his sights. Although the young Canadian co-headliner Gangon may be a heavy underdog, "Baron" tells MMAJunkie.com that he is not looking past his UFC Fight Night 58 opponent:
"He's not that well-known of a guy, but he's a tough guy," Barao said. "He's got a lot of submissions, and I know I've got to work hard to beat him. It was definitely not the best year," Barao said. "Unfortunately, life is not always the way we want it to be. We had a few setbacks, a few problems, and we're getting back into it and looking at all those things that happened."
"I was very sad in the beginning, but as an athlete, you've got to take that and move it forward. Now my goal is to get back in there and win a fight and get back to the belt."
Many argued that Barao was close to the top of the pound-for-pound list during his unbeaten streak, so his performance in Sao Paolo tomorrow will be watched closely. He will undoubtedly be looking to get the finish against Gagnon, but his sub defense should be tight all the same. The ex-champ continued:
"My goal is to fight for the belt no matter who has it, but I do want to fight T.J. Dillashaw again, and I want to make that clear. I would face T.J. Dillashaw even for free if I had to. I hope he's training because we're going to fight each other soon," Barao said. "We're going to meet again in the near future, and it's going to be a brawl."
"I'm here to show everybody the results of my hard work and give everyone a good show, Renan Barao is coming back, stronger and tougher than ever."
Given the current economic climate in the UFC, offering to fight for free might be a step beyond noble. Also noteworthy is that "Baron" was living in a tiny house and eating pizza and pasta for a good part of his earlier championship career, so perhaps the change of lifestyle will make his big weight cut a little easier.
What do you think, is Renan Barao vs TJ Dillashaw 2 a dead cert, or will Mitch Gagnon upset the former champion in his home nation of Brazil?
Follow @Rorylowkick

Follow @LowKick_MMA

Tweet

If you enjoyed this story, please share it on social media!