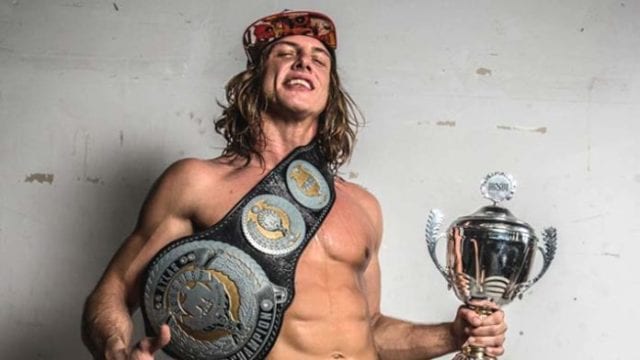 Former mixed martial arts (MMA) fighter Matt Riddle has signed with WWE.
Riddle, a former competitor on The Ultimate Fighter (TUF), fought all but one of his professional MMA fights in the UFC's Octagon. Riddle would've had a four-fight win streak with the UFC at one point. Unfortunately, two of his victories were reversed to No Contests due to a pair of failed tests for marijuana.
Following his second failed test for marijuana, Riddle was released from the promotion. He fought once more in Titan FC, winning via second-round submission, before making the transition into professional wrestling.
Riddle had a tremendous amount of success on the independent scene before catching the attention of WWE. The professional wrestling juggernaut scooped Riddle up and inked him to a developmental contract. Riddle tells MMA Junkie that, despite his success in professional wrestling, he does miss fighting in MMA:
"I do miss it," Riddle said. "I watch the fights. I watched Tyron Woodley dominate this week. I feel bad for the fighters and I know exactly – things are a little different now – but I know my world when I was in MMA, everything was tough.

"Life was just so tough. Everything was a struggle. Bills were a struggle. Even when you're on top in the UFC, you only get paid a couple times a year. I'm just really glad to have that all behind me and focus on my craft."
Riddle is one of several mixed martial artists who have made the switch over to professional wrestling. Most recently; Ronda Rousey, Jessamyn Duke, Tom Lawlor, Shayna Baszler, and many more have moved over. Riddle said that it takes more than just the ability to do moves and be athletic to be a wrestler – you need charisma:
"There's a lot of people making the transition and doing it well," Riddle said. "There are other guys that are doing great – and women – you've got Ronda and Shayna (Baszler), Jessamyn Duke. You've got Tom Lawlor, you've got me.

"There's a lot of guys like 'King Mo,' for example, who is a big fan of professional wrestling, world-class fighter, world-class athlete, but I don't think he's the greatest pro wrestler. It's more than moves and athleticism. It's that charisma."
If you enjoyed this story, please share it on social media!