Rashad Evans & Ryan Bader Eye Bout In Texas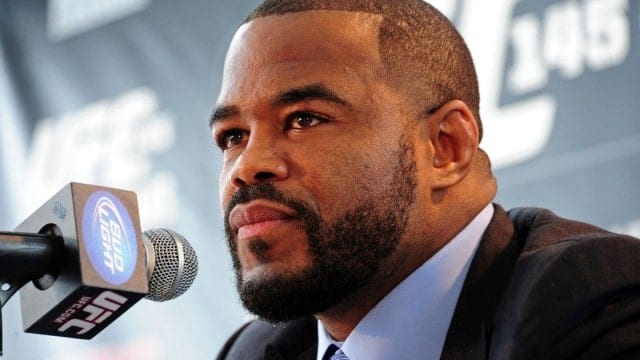 It seems as if two of the UFC's top 205-pounders are interested in squaring off with each other next fall. MMAFighting.com's Ariel Helwani reported on last night's (July 1, 2015) edition of UFC Tonight that No. 5-ranked "Suga" Rashad Evans, and No. 3-ranked Ryan "Darth" Bader have expressed interest in fighting each other, and they both have apparently agreed on a date and event: UFC 192, which is set for next October in Houston, Texas.
Helwani also stated that both fighter's managers have expressed interest in the potential throw down, and it's definitely a bout that makes sense.
The former champion Evans has been on the shelf for quite some time now nursing a plethora of injuries, as he has not competed since 2013, where he handed out a first-round beating to the now retired Chael Sonnen. Prior to that, he scored a victory of the ageing Dan Henderson at UFC 161, but knee injuries have kept him out ever sense. However, "Suga" is now healthy, and a bout with Bader would give him a chance to prove that he is still relevant in the now scarce 205-pound landscape.
Bader on the other hand, has very quietly made a name for himself in the light heavyweight division, as he has compiled four-straight victories. His wrestling-based style may not be the most appealing to fans, but he has seen success nonetheless. "Darth" was thought to be getting the next title shot, after he found himself in the midst of an intriguing rivalry with newly crowned champ Daniel Cormier, but the UFC decided to award the shot to Alexander Gustafsson, leaving Bader very disappointed.
Although a title shot is what he really wants, a win over Evans would probably give the UFC no other choice but to give the former Arizona State wrestler his shot, making it a wise decision to meet "Suga".
Who do you see taking this one if the two meet next fall?