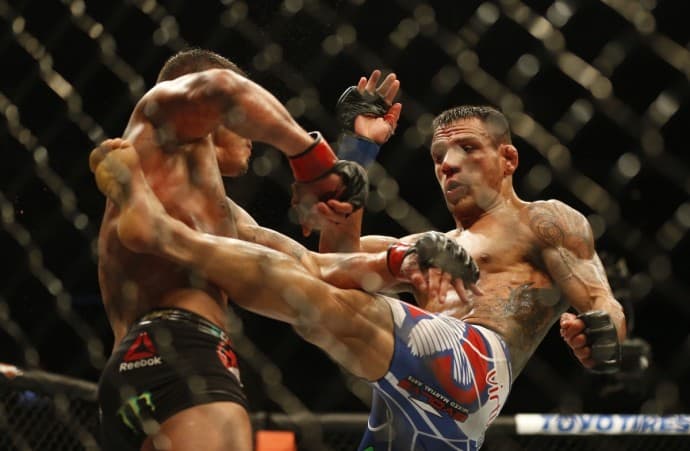 Newly crowned lightweight champion Rafael dos Anjos put on one of the more shocking performances in recent memory when he ripped the belt from the highly favored Anthony Pettis with a dominant performance in the main event of last night's (Sat., March 14, 2015) UFC 185 from the American Airlines Center in Dallas, Texas.
Dos Anjos picked up the shocking win by pressuring the flashy Pettis relentlessly, taking him down and hitting him with a first round left that rendered "Showtime" unable to see out of his left eye. Speaking at the post-fight press conference, dos Anjos broke down his gameplan that worked to perfection after the early shot.
"Yeah, the strategy was chasing him, hit hard and make him scared about my hands," he said. "I think I got it. Once I hit him, I think the fight changed."
After the fight, he also made it seem all the more impressive when Dana White had revealed he had "blown out his knee" prior to the fight. Dos Anjos said he demolished Pettis with a potentially torn MCL.
"The day that [the UFC] was shooting the Countdown with me, the same day they were shooting some part of my sparring session, I bumped my knee. And I think for the fact that I'd been so active, my whole career I've never had a knee injury. My whole life. My knee's really, really tough. I've got a strong knee. But for the first time this happened. And it was like three weeks ago — I couldn't grapple, I couldn't wrestle since then.
"And I don't know if you guys noticed, but I did a kick at the open work outs. I didn't use any kicks because I was kind of dehydrated and I didn't want my injury to get worse. So everything [would go] perfect during the fight."
Picking up his fourth straight win over Pettis, dos Anjos will most likely be headed for a clash with the winner of UFC 187's Khabib Nurmagomedov bout in May. Dos Anjos probably has a preferred pick to win that bout, as he beat Cerrone by decision at UFC Fight Night 27 in 2013 but lost a one-sided decision to Nurmagomedov's smothering grappling last April.
But now the new champ will have to wait and see what his doctors say about his knee, even though he doesn't believe that he needs surgery:
"Actually I didn't go to the doctor yet," he said. "I need to do an MRI just to make sure. But I think it's not bad. I will not need surgery. I just felt a pop, but I don't think I'll need surgery."
Photo Credit: Tim Heitman-USA TODAY Sports