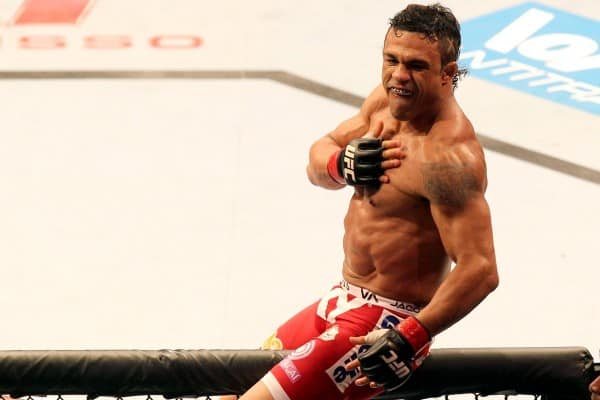 UFC middleweight title contender Vitor Belfort will have to wait a little longer to get his hands on the champion Chris Weidman, as we learned this week that "The All-American" is injured again. The top of the division is once again held up by a fallen champ, and so the talk among fans has turned to an interim title.
So what options are available for "The Phenom", if any? Well, talking at the UFC 183 post-fight press conference, Dana White said there was scope for a fight with a fellow Brazilian:
"It's Vitor; Vitor's the number one contender right now. Weidman's hurt right now. It's typical Vitor. Vitor is blowing me up on the phone, "I want an interim title fight I haven't fought, I want this fight, I want to stay on the card, I want to fight, I want to fight.' All day; you know, obviously the day that this was happening was a rough day for me, I had a lot of stuff going on that day."  
"So I literally, it was about 8:30 at night by the time I got to it and handled it. So what I did is I picked up the phone and I called Lyoto Machida, I said, "Here's the deal." The first thing Lyoto Machida said is, "Send me the bout agreement." I called them back and they're like, Uh, yeah, we'll wait for the Chris Weidman. So, there you go."
Interesting, Belfort didn't want any part of Lyoto Machida, remember that if "The Phenom" beats Weidman and then Machida becomes the number one contender, it might win you some decent money at the bookies. The 37 year old knockout artist hasn't fought since a trio of knockouts in 2013, pulling from his original UFC 173 booking with "The All-American" because of the TRT ban.
At this stage, with the fight being cancelled three times, many of us just want to see it happen already. Weidman has proven to be a bit of an inactive champion, albeit down to injury, and has therefore clustered the top five of the division. After Romero/Jacare we will likely have another clear cut contender, and I don't want to even entertain the fact that the champion could be out longer than April/May.
Shoud Vitor Belfort have just taken the interim title fight with Lyoto Machida, or does he see "The Dragon's" style as too difficult?
Follow @Rorylowkick

Follow @LowKick_MMA

Tweet