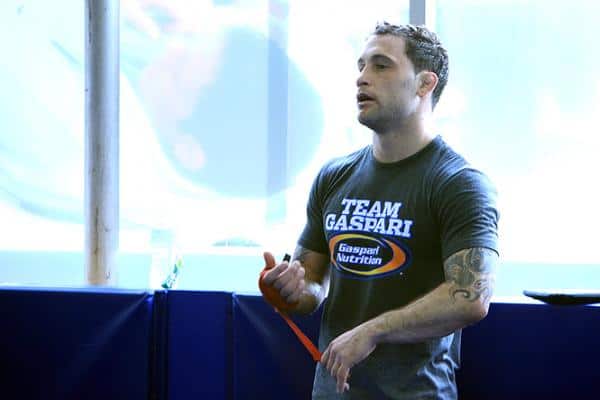 Former UFC lightweight champion and top ranked featherweight contender Frankie Edgar will fight again before getting a title shot, as he is set to face Chad Mendes at The Ultimate Fighter 22 finale in December. After months of campaigning following a successful four fight streak at 145 pounds, 'The Answer' was accepting of his fate after being looked over as replacement for Jose Aldo at UFC 189, and will undoubtedly be in prime position for the winner of McGregor vs. Aldo at UFC 194, should he beat 'Money'.
Already a force at featherweight and decorated as the former boss at lightweight, Edgar is apparently looking to bantamweight for future plans. His boxing coach Mark Henry reportedly told Jon Anik and Kenny Florian that after winning the featherweight strap, it's off to 135 for 'The Answer' on his quest for legendary status. MMAFighting.com had the quotes:
"I talked to [Edgar's boxing trainer] Mark Henry in Saskatoon," Anik said Monday. "Frankie Edgar doesn't want to be a two-division champion, he wants to be a three-division champion. I think internally he feels, and even though I don't agree with this, that maybe it would be a cop out if he went right down to 135 and challenged [bantamweight champion] T.J. Dillashaw as he waits for a bantamweight contender to get healthy."
"I think he wants to win this belt at 145 and then maybe go to 135 before calling it a career. I just think given the backdrop of Conor McGregor and [featherweight champion] Jose Aldo and the likelihood that those two guys are going to fight twice in a row here, I just think it's going to be a long wait for Frankie Edgar. Now to have to get through Chad Mendes on Dec. 11, I think it's a huge ask."
If anyone can do it, it's Frankie Edgar. The tough New Jersey born 'Answer' is renowned for his durability, commitment and ability to dig deep when it really matters. According to his coach and Florian, Edgar walks around at 150 pounds, meaning a cut to bantamweight wouldn't be too much of a drain:
"He was the champion at 155 pounds and he feels like if he goes all the way down to 135 pounds people are going to say, 'Oh, he's just trying to take the easy route.' said Florian. "That's just not the case. Frankie can maybe be the champion at 145, but here's the good scenario: If he does lose to Mendes, he has that 135 pound option. He can go down to 135.
"He can make 135, easy. I had that same conversation with Mark Henry and he said, 'He can make 135, Kenny. He walks around at 150 if he's training a lot.' He's right in there. He can challenge Dillashaw. He can challenge Conor or Aldo. It's unbelievable what he's done."
With the lack of contenders in the bantamweight division, and a showdown between Edgar and Team Alpha Male product Mendes this winter, what's to say there wouldn't be enough of a platform for 'The Answer' to slot in to the 135-pound title picture quite nicely?
He's an exciting fighter and has proved to be among the very elite of two weight divisions so far. The future, although there may not be more than five years of fighting left for Edgar, is still very bright. Is he destined to become the first ever three-weight UFC champion? Further to that, if he does win the strap at featherweight, then a superfight with 'Killashaw' would surely sell itself.