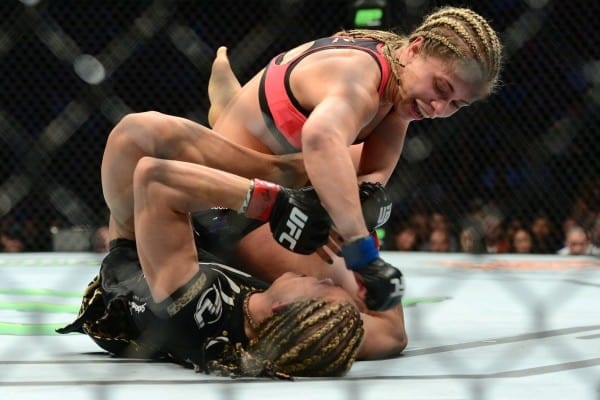 Rising UFC women's strawweight contender Paige "12 Guage" VanZant has received quite a bit of attention throughout her young Octagon career, and she seems to be on her way to becoming a breakout super star. Seemingly possessing the looks, the skills, and the charisma, VanZant is scheduled for her first main event as she takes on Joanne Calderwood at UFC Fight Night 80 on December 10, 2015.
At first glance, "12 Guage" may not seem like a typical fighter, but she believes it's that very fact that has made her stand out in the crowded mixed martial arts (MMA) landscape:
"For me to be a fighter, it's different, it's unexpected," she said to UFC.com. "You wouldn't expect someone like me to be a fighter, and I think that's what draws people to watch me. It's the same thing if you saw Roy Nelson in ballet tights all of a sudden performing in Julliard; people would want to watch. It's something unexpected, it's something you would have never imagined, and I think that's why I'm getting so much attention."
As far as her in-cage skills go, the Team Alpha Male product believes that her heart, and desire to become a champion is what separates her from her fellow combatants:
"I've always had the desire to be the best athlete I could ever be, and I think some people just don't have that. They don't have the heart, and I think that's something you can't teach; you can't learn that. You can put the most technical person out there, and if they don't have the heart, they're not going to be successful. I definitely have the heart. I'm still developing as an athlete and I'm new to MMA, but I have the heart to be a champion and my skills are getting better and better every day."
In a division ruled by dominant champion Joanna Jedrzeczyk, can VanZant's heart steer her towards UFC gold?