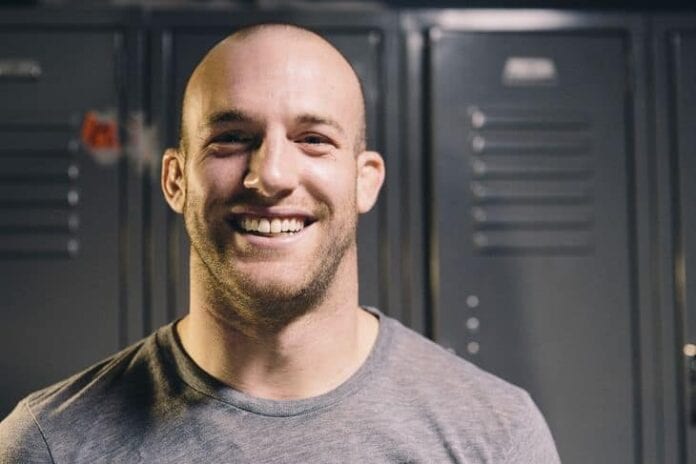 Rising light heavyweight contender Patrick Cummins has had quite an interesting, and different journey in the UFC. Cummins made his UFC debut on extremely short notice at UFC 170 in 2014 against current 205-pound champion Daniel "DC" Cormier.
"Durkin" was actually working in a coffee shop when he got the call, but Cormier needed an opponent, and Cummins hyped up the fight terrifically, saying that he'd actually made "DC" cry back during their wrestling days. Cummins was ultimately finished by Cormier in the first round, but he got his foot in the door, and has since won four out of his last five bouts.
"Durkin" currently sits at No. 10 in the division, and he has a huge opportunity in front of him, as he is set to meet No. 3-ranked former title challenger Glover Teixeira at UFC Fight Night 77. If he can indeed get passed Teixeira, Cummins has said that he would call out Cormier, saying that he has fixed his mistakes, and that he would be trouble for any fighter in a five-round fight:
"Yeah that would definitely be my callout," Cummins told Submission Radio. "Yeah I just feel like I'm a handful for anybody in three rounds. I think people will look at me, anyone in the light heavyweight division kind of looks at me like 'I don't want to deal with that dude for three rounds, like that's just kind of tortuous'. But let's add two more rounds to that and I feel like not many people can hang with my pace and the way I push things and just kind of making it miserable. I feel like that's kinda my ace in the hole. "
Continuing on, "Durkin" once again reiterated the idea that his pace, and style would be a tough matchup in a five-round bout:
"So obviously I've watched the tape, I've seen what I did wrong, I'd change a couple things around, but yeah I think that pace and just that mentality of 'okay man, you're stuck in here with 25 minutes with me and I'm gonna push you hard'. So that's my best attribute apparently. And I got a pretty face. (laughs)"
Cormier is set to defend his title for the very first time next month against Alexander Gustafsson at UFC 192, but the champion's mind seems to always be on former king Jon Jones. "DC" lost a heart breaker to Jones last January, but was given a second chance at gold when "Bones" was stripped of his title after being arrested last April.
Cormier seized the opportunity by scoring a third-round submission victory over Anthony Johnson at UFC 187 to become the undisputed champion, but of course he wants his revenge on Jones. Cummins touched on this topic as well, saying that he believes Cormier would have more luck in a rematch, also noting that "DC" didn't look his normal self in the first bout:
"I definitely think DC's chances will definitely get a little better in the next fight. Jon Jones has been out for a long time, you know, there's a lot of pressure on him, and I don't think DC was the same fighter that he usually is in that fight. I think something was going on. He didn't look the same, and maybe that's just Jon Jones shutting him down on every possible moment, but I tend to think there was something else going on there. So I think it's kinda a toss-up. But I think Daniel's chances go way up if there's a rematch."
Would the outcome be different in a rematch between Cormier and Jones?