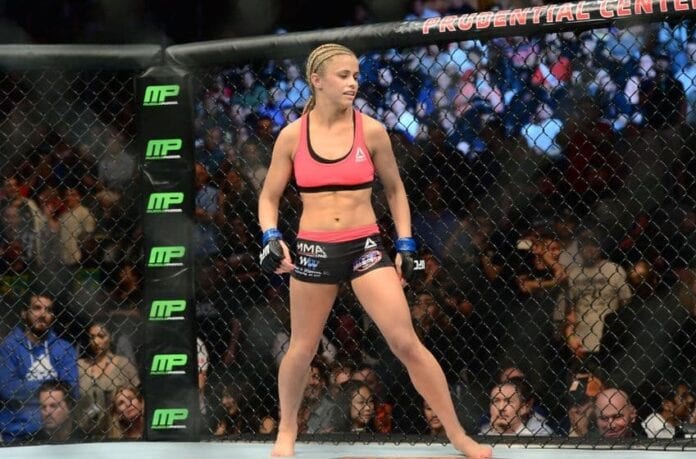 Paige VanZant represents a new breed of fighter who is already popular way before ever setting foot in the UFC octagon. Along with well known names Conor McGregor and Sage Northcutt for example, '12 Guage' has been followed avidly in recent times, although having only three UFC fights and seven MMA bouts overall.
The number six ranked UFC strawweight says that it's a position that has lead to envy amongst her fellow fighters, and negative comments from fans of the sport. Speaking to MMAJunkie Radio, VanZant says she lets the hate go over her head:
"She has something I want. I understand why I get some of the negative feedback from some of the strawweights because I am where they'd like to be. If I look at Joanna, of course I feel a certain way about her, because she has the belt, I'm just so blessed right now. I'm not going to take any of these things personally because they don't know me personally."
With Joanna Jedrzejczyk at the top of the division, and with the two title contenders Valerie Letorneau and Claudia Gadelha in line, there's the distinct possibility that VanZant could face any of those three should she make it to a title fight. According to '12 Guage' though, she feels that Joanna 'Champion' will remain at the head of the division:
"She's a great fighter; I think she's really good," VanZant said. "Of course, we're seeing a lot of other strawweights with a lot of talent. She's going to have top competition. But I do think that she will be the person who stays with the title until I get there."
Jedrzejczyk has already drawn comparisons to Ronda ROusey in terms of her potential and skill level, and a bout with the ultra popular Paige VanZant would certainly sell itself. '12 Guage' has her hands full with Joanne Calderwood at UFC Fight Night 80, but the sky's the limit with a win over 'Jo Jo'.

Stay tuned for more UFC and MMA news throughout the day!