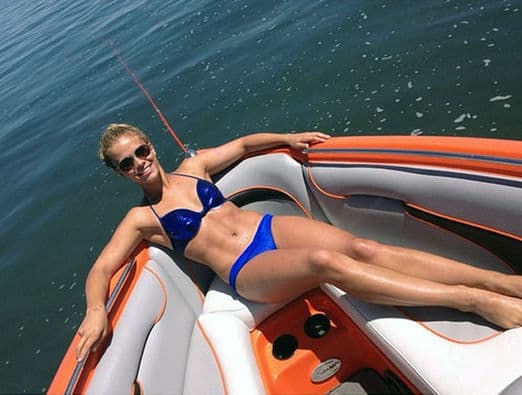 Surging UFC women's strawweight contender Paige VanZant recently got a rarely-seen tougher fight when Rose Namajunas replaced her original opponent Joanne Calderwood in the main event of December 10's UFC Fight Night 80 from Las Vegas.
The No. 3-ranked 'Thug' was fortunately in the right position to step in on short notice after destroying Angela Hill at October 3's UFC 192. VanZant respects Namajunas' insistence to take the huge fight, voicing her opinion that she would do the exact same thing to Submission Radio:
"I think that anyone that knows anything about the strawweight division, knows there's only 30 athletes. So once you're in the top 15, it's very selective who you have fights with. So that's why when we looked at a new opponent with Joanne, we had to find someone who either hadn't just fought, or didn't have a fight lined up already. That's very hard. Rose just fought. So it's awesome that she stepped up and she's taking this fight. You know, and there aren't enough girls in the division. But you have to take the fight that you're offered, and so I'm gonna take every single fight the UFC offers me."
VanZant moved on to describe her response to the oft-asked question of whether or not her good looks got her all the stardom she's acquired in a short amount of time. "12 Gauge" acknowledged that she indeed may have, but ultimately she's going to have to keep winning fights to sustain success in the UFC:
"Yeah, it is a funny question, and it's obviously one that I've gotten a lot, and something so many people are curious about. But I think people just still have to remember that this is still an entertainment industry. It's all about ticket sales and it's about how many people you can bring to the fights, and how many sales you can get. And in reality though, if I lose my fights, none of it matters. It doesn't matter if people think I'm good looking, it doesn't matter if I have this draw behind me. If I lose my fights, I'm going to lose all of that. So for me, the pressure is still high. The pressure is still on to win fights, and I'm gonna continue to do that."
That could be a good point to focus on from the seemingly wise-for-her-years VanZant, who would no doubt see her popularity decrease despite her looks if she were to start losing several fights. As for the biggest fight of her life, the Team Alpha Male-trained fighter said she wants to show off her total skillset against 'Thug,' and has her training partners mimicking Namajunas as she works hard to round out her all-around game and conditioning:
"This is a great fight for me. I plan to win it in every area. I definitely haven't shown off all of my skillset that I have, so I'm excited to get back in there. I've made a lot of improvements since my last fight. I've been able to watch my fights and see the areas I've improved and the areas that still need work. So I'm definitely going to be ready for this, wherever the fight goes.

"My training partners are going to change their style a little bit to be a little bit more like her. But for me, this is definitely a winnable fight, from just getting to be the best competitor that I can be, making gains everywhere, in jiu-jitsu and stand-up, and I'm gonna be athletically ready for this fight."