The MMA world is still buzzing over the news that Conor McGregor and Floyd Mayweather are going to throw down, and Nate Diaz wasted little time posting a must see reaction.
If you somehow missed it, it's been officially announced that McGregor and Mayweather are going to box August 26th, at the T-Mobile Arena in Las Vegas. The bout is going to be contested at 154 pounds, and it will be a 12 round contest.
Well,  since news of the superstar fight broke, Diaz posted the comment and picture below on Instagram:
natediaz209 It's gonna be a good fight for that #2 spot.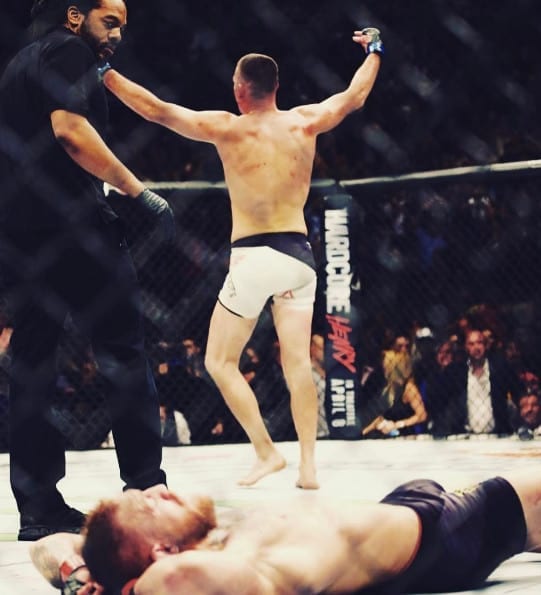 If you're surprised by Diaz's take on the news, you shouldn't be. Although officially, Diaz is 1-1 in bouts with McGregor, the Stockton fighter has repeatedly argued he actually won their rematch last August. McGregor was awarded the decision win in that bout, which took place after Diaz submitted the Irish star in their first encounter, last March.
Immediately after his rematch with McGregor, Diaz campaigned for a rubber match with his rival, but more recently he's moved away from that stance.
One thing's for certain, not too many people were predicting last August that McGregor would box Floyd Mayweather one year later, while Diaz would remain on the sidelines. As it stands right now, Diaz is not booked for a bout, and there's been no indication that he's close to fighting again. Tony Ferguson repeatedly called out Diaz, but the latter has made it clear he's not on board, despite the fact "El Cucuy" is ranked #2 at 155.
Although, compared to what Diaz likely collected for his scraps with McGregor, a bout with Ferguson probably isn't too enticing from a financial perspective.