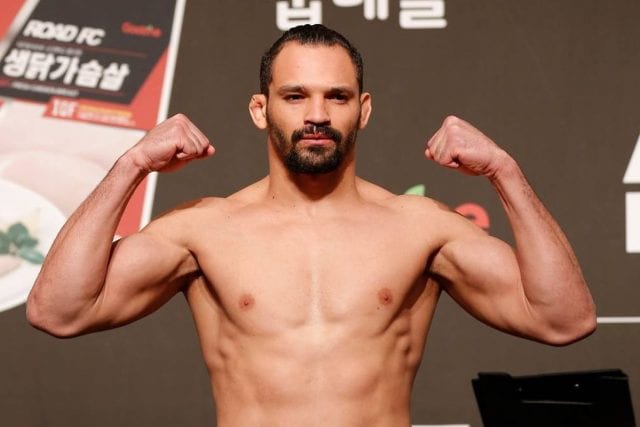 Moonsaulting Michel Pereira has realized his dream as he inked a multi-fight contract to fight in the UFC's welterweight division.
The news was first reported by MMA Fighting and later confirmed by MMA Junkie.
Pereira, 25, is by no means a novice in MMA. He has more than 30 professional fights to his credit. His most recent second-round knockout of Dae Sung Kim at Road FC 52 in February went viral. Watch it below:
In the clip above Pereira attempts a number of unorthodox flying attacks. At one point he even lands an illegal head stomp that prompted the referee to stop the fight momentarily. Regardless, Pereira won the fight in highlight reel fashion and later vowed to bring the same level of theatrics to the UFC.
"I have this mentality that, nowadays, the UFC is getting a little boring," Pereira said. "Bellator, too. Athletes today are very concerned about winning. They think only about the victory. Not me, I think differently. I think about the show. People pay expensive tickets to see something they enjoy watching. Like back in the day, when there was Anderson Silva. Vitor Belfort, Jon Jones, they put on shows. Now, fighters are losing that. They're focused only on winning, they don't care what you think about their fights – if it will be good if it will be bad.
"I think that I have to have a good performance, and the win will come as consequence. … My goal is to become the UFC's showman. It's one of my goals, to carry that status: 'Who's the showman of the UFC? It's Michel.' I want to put on a show for the audience and try to bring this back among the athletes, as well."
Check out the newest UFC welterweight showing off his freshly-signed contract.
If you enjoyed this story, please share it on social media!