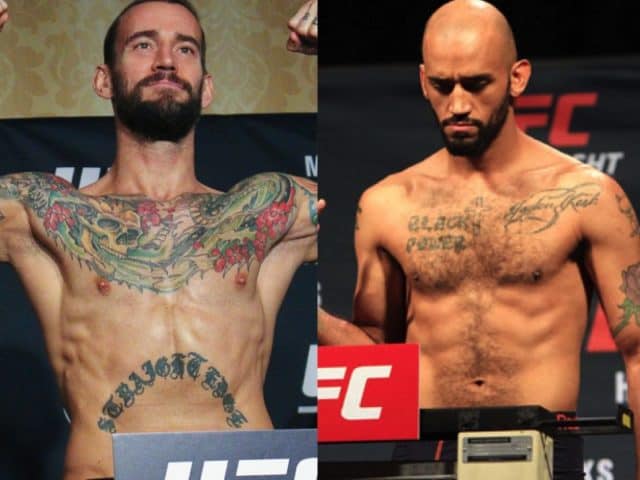 Former World Wrestling Entertainment (WWE) star Phil "CM Punk" Brooks will look to rebound from a disappointing mixed martial arts debut when he faces off with Mike Jackson in his second fight on the main card of this Saturday's (June 9, 2018) UFC 225 in his hometown of Chicago, Illinois.
Like Punk, Jackson is 0-1 in his professional career, but he feels as if his skills are far better and in a recent interview with MMAjunkie, he predicted a knockout victory this weekend:
"He has one fight in combat sports," Jackson said. "That's an amateur fighter, especially when he has no previous background like a collegiate wrestling career, or Ronda (Rousey) had the judo. He doesn't have any of that. So he's an amateur fighter at best.

"So I know he's going to lack the skills, and I know his best for him, skill-wise, is his jiu-jitsu. I understand that. But even with that, I'm better than him on the ground.

"I've been doing this a lot longer than he has, and I'm prepared wherever the fight goes. But for me, everybody knows what I'm coming to do. I'm coming to cook him, and I'm coming to knock him out. That's what's going to happen on Saturday night."
With that being said, however, Jackson isn't against letting the fight play out, as he'd like to showcase his full skill set:
"For me, I want it to go a little long," he said. "I want to carry him a little bit … just because I want to show the UFC fans what I'm really capable of doing in the cage. But if that opportunity arises, and I get that one shot, it's a wrap."
And if "The Truth" can indeed display his abilities, he said that UFC President Dana White will have 'no choice' but to give him another fight in the Octagon:
"I feel that if I show my skills and show what I'm capable of doing, Uncle Dana, he has no choice but to let me ride another one out," Jackson said.
How do you expect this fight to play out?