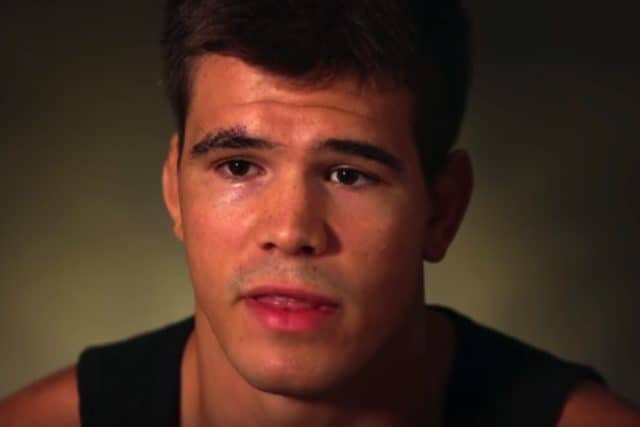 Mickey Gall is a little irked about being left out of the main card of this weekend's (Sat. August 25, 2018) UFC Lincoln event.
Gall earned his claim to fame in September of 2016. He welcomed former WWE star CM Punk into the UFC with a first-round submission victory. Gall went on to defeat the likes of fellow UFC President 'Dana White's Looking For A Fight' alumni Sage Northcutt.
He now comes off the first defeat of his mixed martial arts (MMA) career. Gall was defeated by another 'Looking For A Fight' alumni, Randy Brown, via unanimous decision in November. Now he hopes to bounce back with a victory over longtime MMA veteran George Sullivan.
Despite Gall being one of the more recognized names on UFC Lincoln, he was placed as the opening fight on the FOX Sports 2 prelims.
Gall spoke to MMA Junkie on the matter and admitted that UFC Lincoln is a pretty stacked card. He suggested his experience level could be the reasoning behind his placement:
"I've been asked that question a lot," Gall said. "It is a pretty stacked main card. Maybe my experience (is why)? Let's attribute it to that. I know I'm one of the bigger names, but it's all good."
Gall admitted that being snubbed from the main card bothers him a bit, but the plan remains the same – go in and beat up George Sullivan:
"It does (bother me)," Gall said. "I want people to see all the work I've put in, I want to be on TV. I want to be seen as much as possible.

"It does matter. But what am I going to do? I'm going to go in there and beat this dude up anyway."
In order to gain the attention of UFC officials, Gall knows he needs to make a statement in Nebraska. He plans on doing exactly that against Sullivan. Gall described his intentions of painting "beautiful, violent art" inside the Octagon this weekend:
"I want to put a highlight on him," Gall said. "I want to do something. This is my art. I want to paint something beautiful, I want to paint some beautiful, violent art. Something that will last. I want to crush him. I want to put a violent masterpiece on."
If you enjoyed this story, please share it on social media!