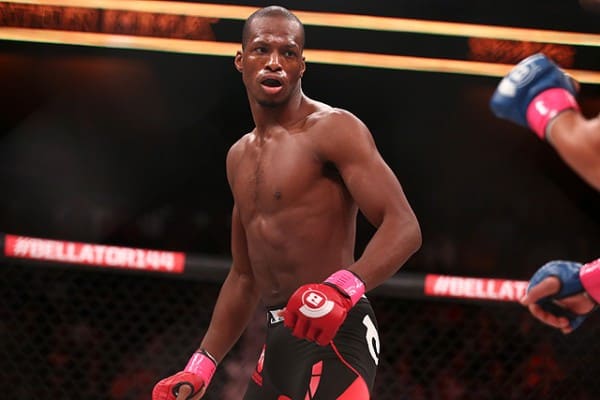 Bellator welterweight standouts Michael Page and Paul Daley have been in a public feud for the last year or so. It all started when Page called for a fight with Daley but Daley blew off the challenges because he felt that Page wasn't on his level as a fighter. It appears that Daley's view on Page has changed as at Bellator 179 in London, Daley took on Rory MacDonald in the main event. Daley ended up losing the bout by submission. Daley was also in attendance for the event as he was supposed to fight Derek Anderson in the co-main event but was forced to withdraw with a knee injury. After the main event, Daley booked it out of the ring and went after Page, which led to both fighters getting into a scuffle right. It seemed that Bellator MMA officials would take advantage of this and book a fight between the fighters.
According to Page, Daley still is refusing to fight him. As seen in the video that was sent to Ariel Helwani of MMA Fighting, Page explained that Bellator approached him about headlining against Daley for Bellator's return trip to England in September. But Daley refused to take the fight. Page added that this is the final straw and that he's no longer interested in a fight with Daley since Daley has passed up the chance to fight him on several different occasions.
Mr. @Michaelpage247 just sent me the following message: pic.twitter.com/4f2Dy4kdjJ

— Ariel Helwani (@arielhelwani) June 11, 2017
"So check this. Bellator contacts me with some news. Amazing. We are gonna main event you and Paul Daley back in London in September. Jeez! That is just what I wanted to hear. After Paul Daley loses horribly to Rory MacDonald, he decides to call me out. He gets outside of the cage and conducts himself unprofessionally, running at me and causing a bit of a scuffle outside of the cage. No problem. Now it's gonna happen. Main event, In London. September. But check this! Paul Daley, for the third time this year, has said he's not going to fight me. I know, I know, I know. You're thinking the same thing: that doesn't make sense! He called me out! But yes. Paul Daley, you're a disappointment to every UK fighter. You're a disappointment to every fan in MMA that wanted to see this fight, and there's a lot of people that wanted to see this fight. You're a straight disappointment. You are forever going to be known as Paula 'Tampax' Daley. That is your legacy. And like I said, this is the third time now, so you're out. Don't ever ask me to fight again."
Page has been trolling Daley on social media in an effort to get a fight with him, including creating his own mini diss track and more on Instagram. Page still has to complete his rehab on his injured knee in the coming months but vows that he wants to return as soon as possible. Unfortunately, it appears that his next fight won't be against Daley.
https://www.instagram.com/p/BU5WEdilehR/?taken-by=michaelvenompage
https://www.instagram.com/p/BVK08fyls1t/?taken-by=michaelvenompage
https://www.instagram.com/p/BVMibJolznF/?taken-by=michaelvenompage