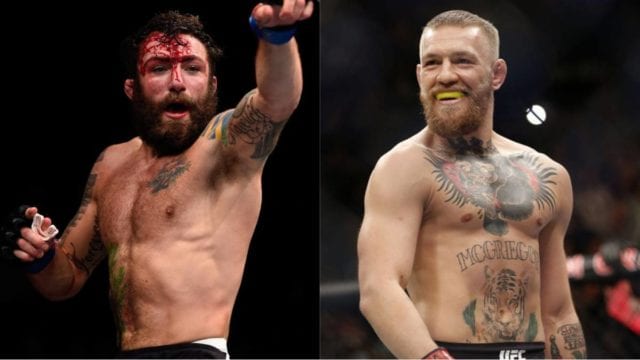 Michael Chiesa has filed a civil lawsuit against former UFC lightweight and featherweight champion Conor McGregor after the Irish superstar started a melee in Brooklyn, New York, earlier this year.
It was reported by TMZ that the UFC lightweight star has filed a civil lawsuit against McGregor as he allegedly suffered damages due to McGregor's infamous bus attack. The lawsuit states that Chiesa suffered "serious personal, economic, and other injury," as well as "severe emotional distress, mental trauma, and/or bodily harm."
It also accuses McGregor of negligence, assault, battery and infliction of emotional distress. What's interesting is the fact that Chiesa has listed Barclays Center as a defendant, alleging the facility failed to take "proper security measures to protect the plaintiff and other patrons." The lawsuit was filed on Monday in Brooklyn.
According to court documents, it doesn't state exactly how much money Chiesa is looking to get but did note that he wants relief for compensation lost, including "lost opportunities."
Back in April during fight week of the UFC 223 pay-per-view event, McGregor and several members of his entourage decided to fly from Ireland to Brooklyn, New York to get revenge on current lightweight champion Khabib Nurmagomedov. It all started once the UFC lightweight champion got into an argument with McGregor's training partner, Artem Lobov, earlier that week.
This led to McGregor attacking the fighter bus that had Nurmagomedov on and he was arrested as a result, then was charged with three counts of assault and one count of criminal mischief.
All felony counts were dismissed as McGregor accepted the deal that is a guilty of disorderly conduct charge, which will see him do five days of community service, anger management classes and three orders of protection against Ray Borg, Jason Ledvetter, and Chiesa.
Chiesa and Anthony Pettis were slated to fight each other at the UFC 223 pay-per-view event in April in Brooklyn, NY. However, the bout got scrapped once Chiesa suffered facial lacerations due to this bus attack. They did the fight at the UFC 226 event where Chiesa lost by submission. If you enjoyed this story, please share it on social media!