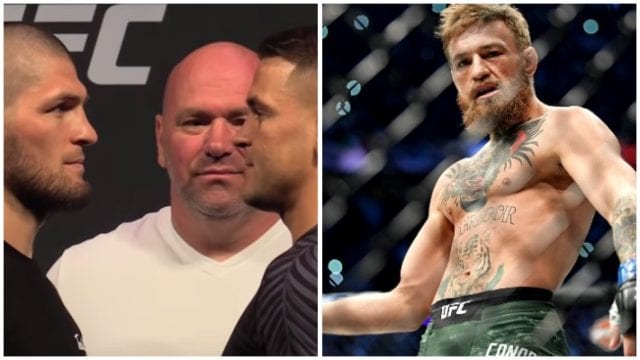 Conor McGregor will be rooting for Dustin Poirier to defeat Khabib Nurmagomedov according to former UFC middleweight champion Michael Bisping.
Nurmagomedov and Poirier meet in a lightweight title unification clash in the main event of UFC 242 which takes place September 7 in Abu Dhabi. McGregor last suffered defeat to Nurmagomedov and despite talks of a rematch, there's a likelihood that "The Eagle" will face Tony Ferguson next if he wins.
However, Bisping believes McGregor has a chance at getting the next title shot if Poirier were to win — which is why he believes the Irishman is probably praying for an upset at UFC 242:
"He's probably hoping and praying that Poirier beats Khabib in Abu Dhabi," Bisping said on his podcast (via BJ Penn). "If Poirier beats Khabib, obviously we all know Conor has that massive win over Poirier. He did it very, very easily. He made short work of Poirier back in the day. Alright, it was back in the day, it was at [145 pounds], but even still, if Poirier wins, there's a possibility of setting up that rematch. That's his shot — and easier shot at the title."
McGregor Needs A Win First
Of course, there's always a chance the UFC could skip Ferguson and give McGregor the rematch if Nurmagomedov were to win. However, Bisping believes the former lightweight champion needs one more win before getting a chance to run things back:
"I don't think he gets that [Khabib] fight [after UFC 242]," Bisping explained. "The Poirier fight, definitely, I can see them doing that. From the UFC's perspective, they're going to do it [the rematch with Nurmagomedov]. [The first fight] was the biggest pay-per-view ever, the rematch is going to be even bigger.
"Rematches sell, especially with the amount of bad blood, especially with what happened after the fight outside the Octagon. The rematch is going to be huge. I just think Conor has to win another fight first."
Do you agree with Bisping?
If you enjoyed this story, please share it on social media!