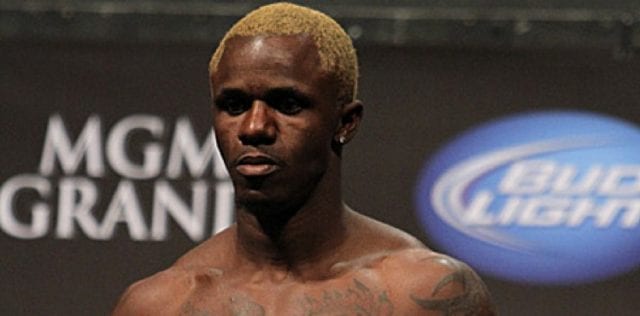 Melvin Guillard is in trouble.
Guillard is facing charges stemming from a felony assault and misdemeanor domestic violence in Jefferson County, Colorado (first reported by TMZ).
This further complicated Guillard's current legal situation. He was arrested by the Lakewood Police Department on April 23 of this year after an altercation with his girlfriend. Guillard's girlfriend told officers that they had an argument and that Guillard put his hands around her neck. He strangled her because he didn't want her to be too loud and wake others in the home, according to an affidavit.
Guillard told officers that he asked his girlfriend to quiet down while they were arguing as to not wake anyone else up. When she refused to quite down Guillard said she would have to leave. Guillard told officers that's when the alleged victim slapped him in the face. Guillard then admitted to grabbed her by the neck and lifted her to her feet. He told cops that she said, "What are you gonna do? Hit me?" To which Guillard said he replied, "no." Guillard assured police that there was no further physical contact after that. However, the police took Guillard into custody anyway.
The 35-year-old Guillard was in court Sept. 10 of this year for the domestic violence case when he was arrested for another incident. Apparently, Guillard had been involved in an alleged assault at a Denver bar on Sept. 3, 2018.
As with the first incident, TMZ was first to report on this situation. However, this time it would appear that surveillance cameras caught Guillard in the act of knocking someone out cold.
Watch Guillard knock out someone out cold here:
Guillard is being held on $10,000 cash bond for four charges stemming from the bar incident: three second-degree assault and one third-degree assault. He remains in custody in Jefferson County as of Thursday afternoon, per records. Second-degree assault is a felony in Colorado.