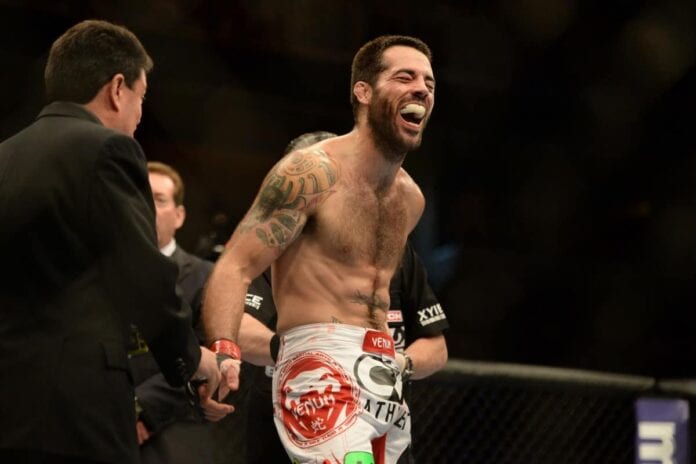 Matt Brown vs CM Punk? "The Immortal" says he'll fight the WWE superstar the same night as Tarec Saffiedine….
The recent signing of WWE-famed CM Punk has made waves in the MMA community. Fighters such as Nate Diaz and Conor McGregor have voiced their displeasure on the UFC's acquisition of Punk, and many of us questioned the validity and legitimacy of CM Punk as a fighter.
Next to hop on the opinion train is UFC welterweight banger Matt Brown. "The Immortal" is to the point as usual, and says that he expects more of the promotion he fights for. Check out what he said the "The Great MMA Debate" podcast, transcribed by MMAFighting.com:
"I thought the sport, the UFC, itself, was beyond that now," Brown said. ""Bellator doing this, I could understand. I could see other organizations doing it. The UFC, I just didn't expect it."
"I don't have a problem with the UFC doing it," Brown said. "What I have a problem with is CM Punk being dumb enough to think he can do it. If he wants to come fight a real man I'll be standing there. I'll fight Tarec Saffiedine on [Feb. 14] and I'm the main event, everyone will be gone. I'll fight him right after Tarec if he wants."
We've seen bigger freak shows than Phillip Brooks (Punk's real name) in the past, and they include Kimbo Slice and a bloated version of ex-boxing champion James Toney. Of the three, clearly Punk is the best athlete at the time of signing, but holds no formal experience in actual combat conditions.
Another question that hasn't been asked much is how much money will CM Punk make for his UFC debut? Will it be on a PPV card, or will the promotion actually want to harbour Punk as a talent, and bring him up from the Fight Pass prelims? The current economic climate involving a certain high profile law suit be damned, I suspect the 'butts on seats factor' will earn Brooks some serious bucks, regardless of actual fighting ability.
The signing of another WWE star, Brock Lesnar, was rather a different story to this. The man-mountain Lesnar was a highly credited wrestler at college, and also fought in lower leagues before being signed by Zuffa. As the UFC continues to mar their own image, would they have been better off letting the ex-WWE contender take the same route as Lesnar did, and is anyone interested in seeing Matt Brown vs CM Punk?
https://soundcloud.com/greatmmadebate/the-fallout-over-cm-punk-to-the-ufc-continues-plus-rogan-vs-schaub