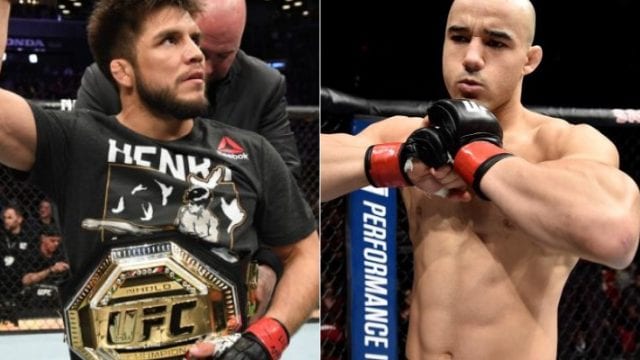 Marlon Moraes wants a definitive win over Henry Cejudo when they collide in the main event of UFC 238 this weekend (Sat. June 8, 2019).
Both fighters will compete for the vacant bantamweight title in Chicago, and they certainly deserve to be in their spots. Moraes is on a four-fight winning streak; including finishes over Aljamain Sterling, Jimmie Rivera, and Raphael Assuncao. As for Cejudo, he became flyweight champion when he out-pointed pound-for-pound great Demetrious Johnson.
"The Messenger" would then defend his title against former bantamweight champion TJ Dillashaw, knocking him out in the first round of their UFC Brooklyn matchup earlier this year. While "Magic" respects Cejudo's recent accomplishments, he feels the Dillashaw win was a fluke, given the nature of the fight.
Many others do as well, which is why Moraes wants to leave now questions when he faces Cejudo this weekend:
"We all got holes and matchups make champions and I think Henry Cejudo is a great matchup for me," Moraes told MMA Junkie Radio. "I'm very confident in all I see him doing in the cage. Of course, he beat a legend, Demetrious Johnson. He beat, in my opinion, another guy that can be a legend in the future – TJ Dillashaw, he's a great martial artist.
"But we didn't get to see much his last fight. I think TJ got what you need to beat Henry. I think it was a fluke, it was just a matter (of) day. That was Henry's day. But I worked hard. I'm well prepared for this fight. And I don't want no flukes. I'm going out there. Perform, perform well and win. And leave no doubt who's the best 135-pounder now."
Moraes Prepared For Five Rounds
Given Moraes' recent hot streak with his last three wins ending in the first round, one would think he plans on doing the same with Cejudo. However, the Brazilian is ready to go all five rounds as well, and says the outcome of the fight will ultimately hinge on their performances:
"It depends on how Henry Cejudo is going to perform, depends on how I'm going to perform," Moraes added. "It's about timing and momentum. We're going to feel. I'm going out there for five rounds, five tough rounds, but we never know. Maybe he will come too hard and he's going to go home earlier." If you enjoyed this story, please share it on social media!