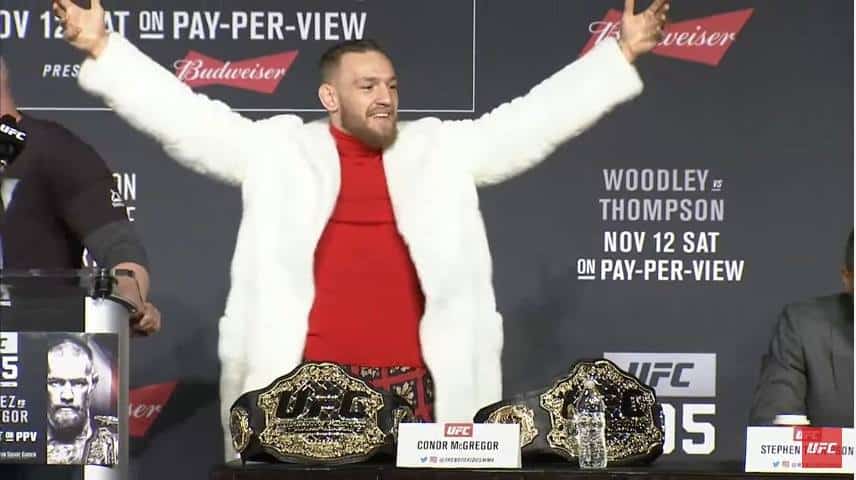 Mark Wahlberg is willing to give Conor McGregor a piece of his ownership in the UFC because he believes the Irishman deserves it.
This past July the UFC sold for just over $4 billion. A short while later, it was revealed there was a group of more than 20 celebrities involved in the purchase. Among the group was film star and business man Mark Wahlberg, a longtime fan of the UFC.
Following his historic win at UFC 205, he announced he would not be returning to the cage unless the new owners offered him a piece of the pie. Another words, McGregor is looking to become a partial owner in the company. Wahlberg spoke with TMZ about the idea and says, McGregor deserves it so the UFC has to 'cut the check'.
"Cut the check man," Wahlberg said. "You know what and as a matter of fact I'll give him a piece of mine, because you know what, he is the face of the UFC right now. He deserves that, but also you know, in business, you got to cut the check."
Wahlberg being willing to part with a piece of his share isn't for nothing, of course. He thinks there are plenty of avenues for McGregor and himself to make money.
"You know what he is a hustler like me, so there is probably a lot of other opportunities for us to go out there and earn money together," Wahlberg said. "He is a movie waiting to happen so why not."
It looks as though McGregor's demand for a share in the company may be within reason, especially if more of the owners feel the way Mark Wahlberg does.
But ultimately it will come down to WME-IMG's decision makers, and they've appeared focused on cutting down the costs of business by laying off just under 15 percent of the original staff. Overhead is one thing, however, and the UFC's biggest star is another one altogether.
Maybe one of Hollywood's biggest stars can help the deal get done.