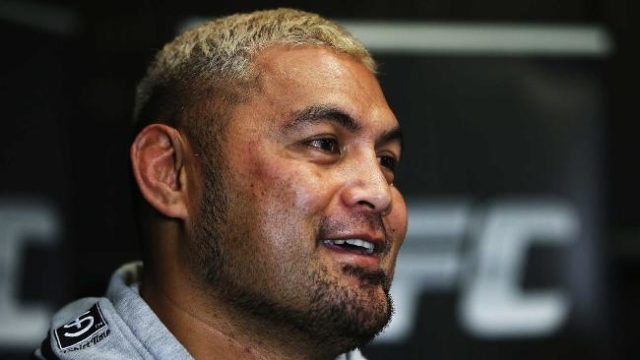 Mark Hunt UFC knockout artist and first man to finish "Big Country" in the octagon
Mark Hunt returned to action at UFC Fight Night 52 this past Saturday (Sept. 20th, 2014) as he squared off against fellow hard-hitting heavyweight Roy Nelson. The bout between "Big Country" and "The Super Samoan" was billed as a collision of heavy-handed and hard to finish giants. For Nelson though, he only lived up to part of that moniker.
Hunt was able to connect with great frequency, and ended up getting a second round finish via walk-away uppercut. The win puts "The Super Samoan" right back in the line for title contention, and quite rightly so. The way he dispatched of Nelson was impressive, especially considering Junior Dos Santos was not able to finish "Big Country" over three rounds.
Hunt stopped by to talk with MMAFighting.com today, and discussed his win in Japan last weekend:
"I can knock anybody out really, I have to feel like the best fighter in the world or I wouldn't be doing this. I could feel like he was done. I don't think anyone could get up from that one, it was a good shot man. I think I walked the wrong way, the ref sort of pushed me over, he kinda ruined it haha. I did feel bad about the eye poke, but it was accidental. I was ready for anything, the weight cut wasn't that good but I was prepared well."
I was personally shocked at how relatively easy Hunt was able to KO Nelson, perhaps it's true that even the most solid chins have an expiration date. Regardless, Hunt looked like a boss in winning at Fight Night 52, even with the referee stifling his walk away moment.
"The reports I was 19 pounds over the day before wasn't true, I was eight or nine maybe. Of course I was going to make weight, there's no way in the world I wouldn't make weight. It's not like I'm a small guy, I've got no excuse because I've got a lot of extra weight anyway. I started the camp at 153 kilos, but that's because I was eating a lot of chocolate with the kids and KFC. It was all good."
Initial reports that Hunt was 19 pounds over the heavyweight limit were, alas, untrue according to "The Super Samoan" himself. The talk then turned to a potential next opponent for Hunt, and he hinted that a rematch of his 2006 submission loss to Josh Barnett is the fight he wants next:
"No one has contacted me, but I was thinking of Josh Barnett. I mean, he is the guy who is above me in the rankings, and I'd love a rematch, so hey Josh it looks like you and me have a date. Maybe when the UFC comes to Sydney Dana White can put us on that card. Any rematch is always good for me. I want to get closer to that title shot. Yes (I should get a title shot with a win. I think I need a top 5 guy, and then I can get that title shot. I believe I'm close, maybe a win against Barnett or JDS."
Hunt has gone from a 5-7 last chancer from Pride, to a serious top 10 contender in the world's biggest organization. It truly has been a cinderella story as far as "The Super Samoan" is concerned, but can he take that next step to becoming a UFC champion? At the ripe old age of 40, you'd imagine that this could be Hunt's last shot.
That being said, anything can happen in MMA. With the stalemate at the top of his division right now though, the timing could be perfect for "The Super Samoan" to get a title shot in 2015….
If you enjoyed this story, please share it on social media!