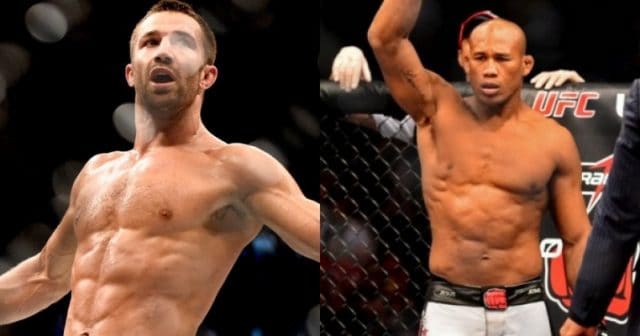 Former UFC middleweight champion Luke Rockhold will compete for the first time since surrendering his title when he rematches fellow top contender Ronaldo "Jacare" Souza in the main event of UFC 101 on November 27, 2016 from the Rod Laver Arena in Melbourne, Australia.
Prior to this booking, there were talks of a potential rematch between Rockhold and Chris Weidman, the man Rockhold took the belt from last December, but Weidman has since been matched up with Yoel Romero. Rockhold feels as if the bout with Souza makes the most sense for him, however:
"I think this is the most credible fight for me right now. Jacare has proven himself as the top-tier guy. I've already beat Chris Weidman, beating him again at this stage, I don't think it proves as much as this fight right now. I think people are high on Jacare and (if) I go out there and put him away, I think it speaks volumes. I think it's the biggest statement fight right now." Rockhold told Submission Radio.
The first time the two met was at a Strikeforce event back in 2011 in which Rockhold walked away with a split-decision victory. In the time since, the former champ doesn't feel as if "Jacare" has evolved as much as he had:
"I'm very aware of what Jacare brings to the table and I've watched him as he's grown. I don't think he's grown as much as me. He's tough, I think he's gotten more confidence in his right hand, but he hasn't grown in the ways I have. I respect Jacare, but I'm gonna go out there and I'm gonna pick him apart."
Ultimately, Rockhold requested a big main event fight, and he was granted his wish. With that being said, he plans to make a statement and receive another shot at divisional supremacy:
"I think it's pretty plain and simple – I already put Weidman away in devastating fashion, Yoel Romero has his controversies, and this is the fight. Jacare, I believe won the fight with Yoel Romero. And for me it was obvious – it was a five-round fight, the main event. I love it out here in Australia and five-round fights really tell the tale of who the true fighter is, the better fighter, and that's what I requested and this is what I got."
Who do you expect to come out on top in the rematch?
If you enjoyed this story, please share it on social media!