After a troubling 2014, 2015 has undoubtedly been a bounce back year for the world's largest mixed martial arts (MMA) promotion, the UFC.
With a plethora of memorable fights, finishes, and moments throughout 2015, fans are now hoping for more of the same.
As the year nears its end, we can now take a look ahead at what's to come, and it already appears as if we are in for our fair share of exciting fights and intriguing matchups.
That being said, let's dive into the future and take a deeper look at five anticipated fights to come in 2016:
Robbie Lawler vs. Carlos Condit – UFC 195
The UFC's first card of the New Year is set to go down on January 2, 2016, as UFC 195 will come to us live on pay-per-view (PPV) from Las Vegas, Nevada.
The main event of the evening appears to be one of the most intriguing fights that the promotion could have possibly put together as reigning welterweight champion "Ruthless" Robbie Lawler goes head to head with former interim title holder Carlos "The Natural Born Killer" Condit.
As one can tell from the nicknames, these two are two of the most ferocious warriors in the sport, leading many to believe that we could be in for a back and forth, bloody affair.
Since returning to the UFC in 2013, Lawler has experienced a career resurgence, looking like an animal in the process. In that time period, the "Ruthless" one has won seven of eight with four finishes.
Lawler has clearly rounded out his game, and is coming off of a brutal slug fest with Rory MacDonald in one of the best fights in history.
Condit on the other hand is also a man known for his devastating striking skill set. He returned from a knee injury last May, scoring a vicious finish over former title challenger Thiago Alves.
There seems to be few better matchups than this one, and the clash of styles should provide for an epic war to start off 2016.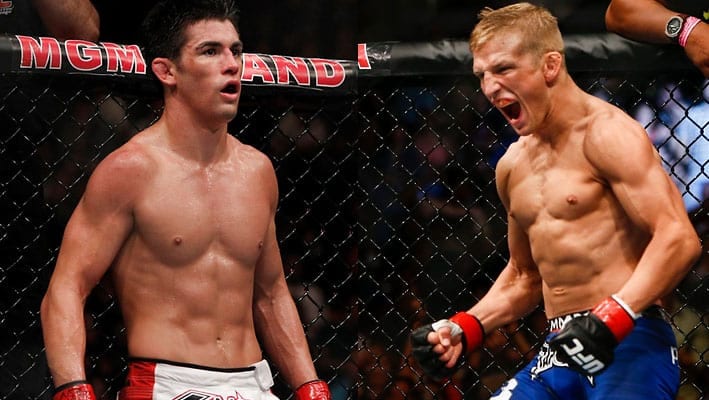 TJ Dillashaw vs. Dominick Cruz – UFC Fight Night 81
In the razor thin 135-pound division, this is without question the most meaningful, most important, and most anticipated fight that the division has to offer.
Reigning champion TJ Dillashaw will once again put his title on the line against returning former champion Dominick "The Dominator" Cruz in the main event of January 17's UFC Fight Night 81 from Boston, Massachusetts.
Cruz, a man many consider to be amongst the best bantamweights of all-time, has been plagued by unfortunate injuries over the course of his career, having only competed once over the last four years.
However, he never technically lost his title. "The Dominator" was scheduled to take on former interim champion Renan Barao in 2014, but was scratched from the bout, forcing the UFC to strip him of his title.
Barao would become the undisputed champion, that is until he met Dillashaw at UFC 173 where "The Viper" pulled off one of the biggest upsets in promotional history to steal the strap.
Since then, Dillashaw has defended his title twice and we will now finally get our answer as to who the man is at bantamweight.
Both Dillashaw and Cruz use very similar styles, and a bit of a rivalry has even stirred up between the two.
We've waited quite some time for this fight, and it's almost here.
Who's your pick?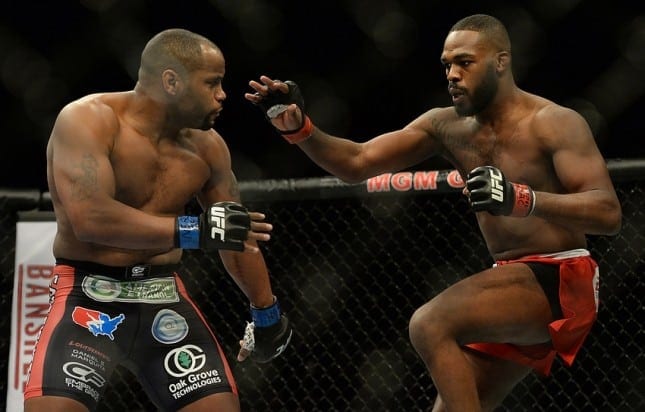 Daniel Cormier vs. Jon Jones II
Although this fight hasn't been scheduled yet, it is expected to go down sometime next year, and when it does, it will arguably be the largest rematch in the history of the sport.
These two men actually met just under a year ago at last January's UFC 182. After a heated back and forth buildup including a media day brawl, it was Jon Jones who scored a one sided decision victory to retain his tile over Daniel Cormier.
However, things soon went south for the best pound-for-pound fighter on the planet. "Bones" was arrested on felony hit and run charges last April, leading the UFC to pull him from his scheduled title defense with Anthony Johnson, strip him of his title, and suspend him indefinitely.
In the midst of all of this madness, Cormier stepped up to take on Johnson, scoring a submission victory to become the undisputed champion. He would then defend his title against Alexander Gustafsson at UFC 192 in one of the best fights of the year.
Now Jones has been fully reinstated and it appears as if he is more motivated and more hungry than ever to take back the title he technically never lost.
With a deep back story and an already in place rivalry, Daniel Cormier vs. Jon Jones II will undoubtedly be one of the biggest fights of 2016.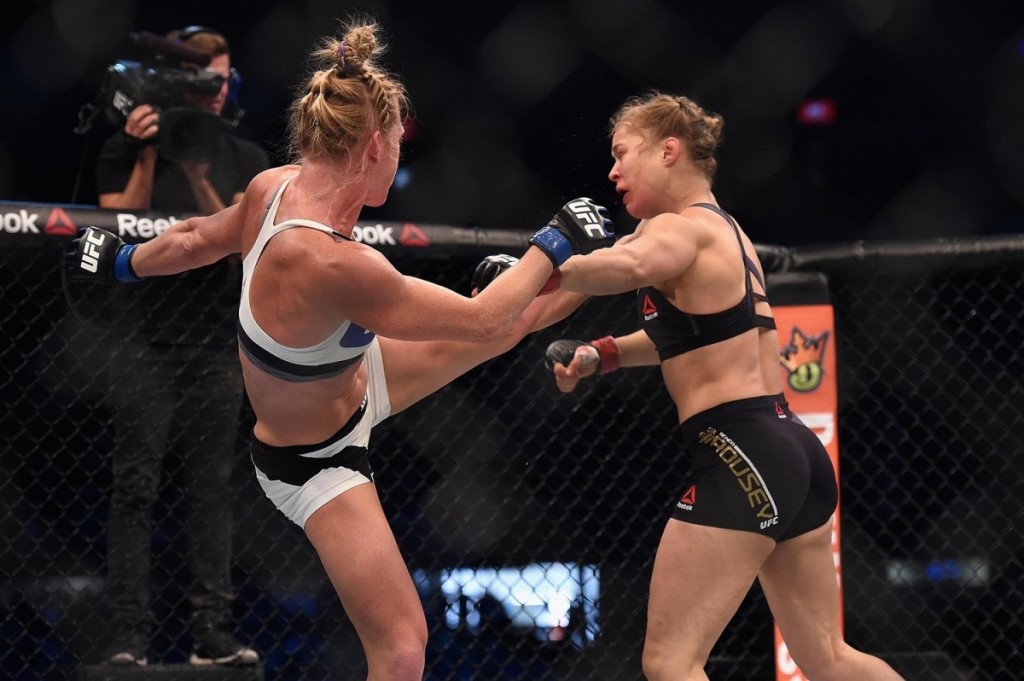 Holly Holm vs. Ronda Rousey II
Like Cormier vs. Jones II, this rematch has also yet to be booked, but it's thought that former dominant bantamweight queen "Rowdy" Ronda Rousey will look to reclaim gold against current champion Holly "The Preacher's Daughter" Holm sometime next summer possibly at July's UFC 200.
Heading into their UFC 193 scrap, many thought that Rousey would do what she had done throughout her whole career: brutally win. Despite 19-time boxing champion Holm being a suitable challenger, the "Rowdy" one remained as a massive favorite.
That being said, the MMA world was absolutely blown away when Holm began to pick Rousey apart before landing a lethal head kick in the second round to finish the fight and become the undisputed champion.
She had done the impossible. She had slayed the beast.
Very few expected Rousey to lose especially in the fashion that she did, and fans are anxious to see how she will bounce back.
Will she be able to climb back to the top in this crucial bout?
Conor McGregor vs. Rafael dos Anjos
After scoring a shocking 13-second knockout over former long-time featherweight champion Jose Aldo at UFC 194, current 145-pound king and global super star Conor McGregor made it clear that he plans to move up to 155-pounds to challenge for the title.
Waiting for him at lightweight will be champion Rafael dos Anjos who is also coming off of a quick finish, stopping Donald "Cowboy" Cerrone in 66-seconds last weekend.
This potential fight, which could be deemed as a super fight between two champions, would also provide quite an intriguing stylistic matchup.
The "Notorious" one is an insanely powerful counter striker, but his ground game has been questioned. Dos Anjos happens to be one of the best grapplers in the sport, and has improved his stand up skills quite a bit training at King's MMA.
While it's possible that McGregor could stay at featherweight and take on Frankie Edgar, it seems as if a move up has become a realistic endeavor.
This would undoubtedly serve as one of the most anticipated fights of the year if it indeed comes to fruition.
What fight are you most looking forward to?