Logan Paul insists online antics from Dillon Danis have gone too far: 'My fiancee is a f*cking angel'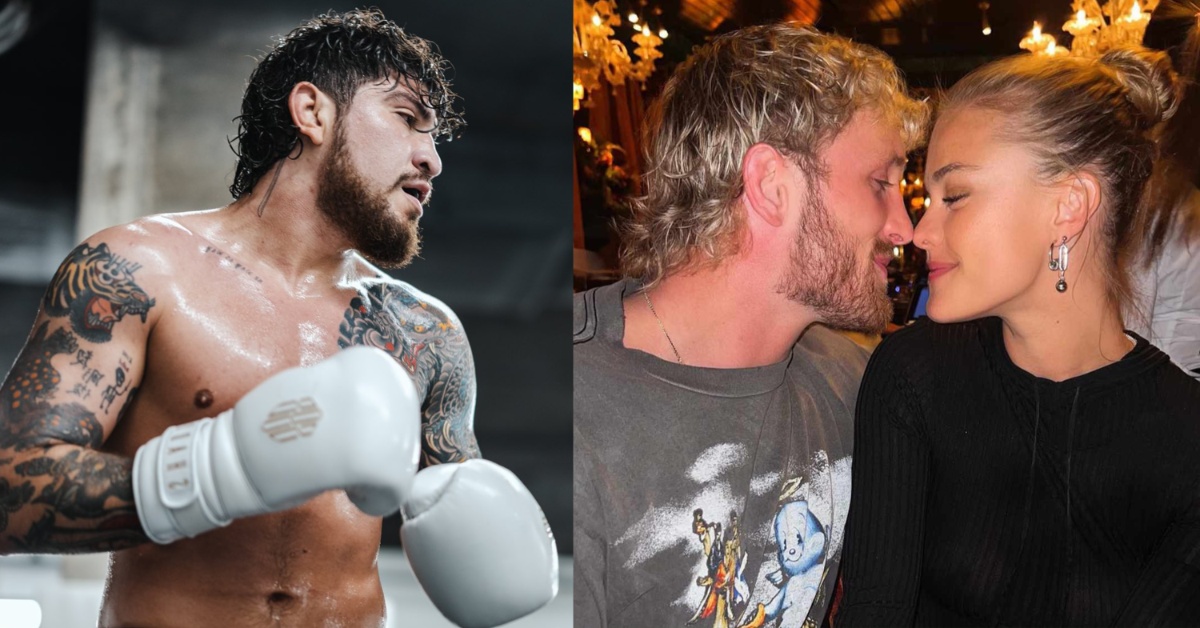 Logan Paul plans on making Dillon Danis pay for taking things way too far in the weeks leading up to their highly anticipated co-main event clash.
On October 14, Danis is scheduled to compete for the first time in four years when he straps on the eight-ounce gloves for a showdown with social media sensation Logan Paul. The pair are expected to co-headline a Misfits Boxing event in Manchester dubbed 'The PRIME Card' thanks to the presence of Paul and his PRIME Energy business partner, KSI, who will headline the event opposite undefeated British boxing standout Tommy Fury.
From the moment that Logan Paul vs. Dillon Danis was announced, the BJJ specialist has made things incredibly personal on social media by going after Paul's fiancée, Danish swimsuit model Nina Agdal. In a string of endless attacks, Danis targeted Agdal, poking fun at her plethora of past relationships and sharing video clips in an attempt to slut-shame the 31-year-old beauty.
"I think he has gone too far," Paul told Misfits Boxing. "It's not affected me, no, because when I entered this fight, I knew Dillon was a scumbag. I didn't think he'd take it as far as he did. But, you know, actions have consequences. I think he's going to get what's coming to him. I think the people online are speaking for me.
"Me and my girl don't have to defend ourselves or try to prove our love for the world. Like, my fiancee is a f*cking angel. He's twisted a narrative of her relationship with long-term boyfriends getting paparazzi'd over the course of her adult life, and he's good. He's a good Twitter troll. But again, he's going to pay for it" (h/t MMA Fighting).
Logan Paul Will Not Let Dillon Danis' Social Media Attack Affect How He Performs on October 14
Despite all the personal attacks, Logan Paul believes he will be able to go into the fight without letting his emotions get the best of him.
"I don't fight with emotion," he said. "To be honest, I don't care about Dillon Danis. He's, I don't know, just such an afterthought. So, yeah, I'm definitely going to be able to control my emotions. He's just the person in front of me for this fight, and he's doing a good job building it up."
Logan Paul expects to have his way with Dillon Danis, noting that Danis is a jiu-jitsu specialist and is not particularly known for his striking skills.
"I honestly think I could do whatever I want to him," Paul said when asked about how the fight would play out. "He's a Brazilian jiu-jitsu guy, and he's not even good at that. I don't know how he thinks he's going to box. Striking is his worst forte. I've been boxing for five years, went toe-to-toe with Floyd Mayweather, 0-1, that should say enough about how good I am."
While he does believe Dillon Danis has taken things too far in the build-up to their fight, Logan Paul is not one to let the noise from social media affect him negatively. After all, he was at one point the most hated person in the world.
"The Twitter noise, bro, understand this: I've been the most hated person in the world at one point," said Paul, referring to his 'suicide forest' controversy. "Like, really, maybe more than one point. Survived all of it. Made my personal changes. Had the comeback I thought I could, because I knew I could be a better person, and I can really viscerally understand that this too shall pass. And so all this internet chatter, online noise, like, yo, if you put your phone down, social media does not exist. It's not a real place, and I get that, and it's good promo for the fight."