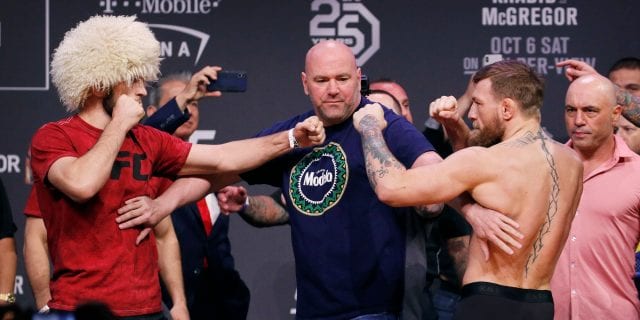 Khabib Nurmagomedov open to putting an end of bad blood with former UFC lightweight and featherweight champion Conor McGregor. This is an interesting idea by the UFC lightweight champion due to everything that has gone on between the two stars.
Back in April during fight week of the UFC 223 pay-per-view event, McGregor and several members of his entourage decided to fly from Ireland to Brooklyn, New York, to get revenge on Nurmagomedov.
It all started once the UFC lightweight champion got into an argument with McGregor's training partner, Artem Lobov, earlier that week. This led to McGregor attacking the fighter bus that had Nurmagomedov.
He was arrested as a result and charged with three counts of assault and one count of criminal mischief. This drama continued in the lead-up to Khabib vs. McGregor happening at UFC 229. It saw McGregor say some harsh comments about the UFC champion.
McGregor lost to Nurmagomedov in the headliner of UFC 229 from Las Vegas, Nevada. In the fight, Khabib submitted McGregor with what appeared to be a neck crank or face choke.
Khabib Nurmagomedov Willing To Make Peace
The UFC champion spoke with the media in Russia at a press conference on Monday. This is where he talked about potentially putting an end to his rivalry with McGregor (transcript courtesy of MMAJunkie).
"Everything is possible. Just as McGregor and I feuded, so we could reconcile. Who are we not to forgive one another when the Almighty forgives us?"
Nurmagomedov also ruled out the possibility of moving into politics after retiring from MMA despite several Russian athletes making the move.
"I try to stay away from all that," he said. "The main thing is to have the desire to help people and you don't have to be a member of parliament to do that."
If you enjoyed this story, please share it on social media!