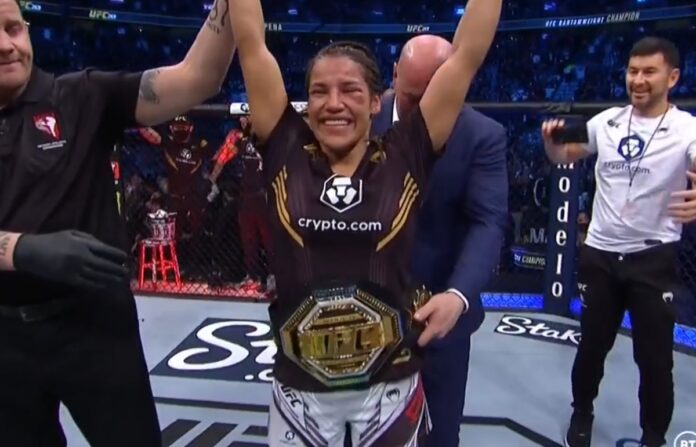 The newly crowned UFC bantamweight champion, Julianna Pena, will happily rematch Amanda Nunes after upsetting 'The Lioness' at UFC 269. The Venezuelan Vixen' says if that fight doesn't come to fruition for whatever reason she'll look to avenge her last two losses which came against Valentina Shevchenko and Germain de Randamie.
Speaking to the media post-fight, Pena named three potential opponents for her next fight, she said.
"I would like to go down and rematch Valentina Shevchenko. I would love to get that rematch against Germaine de Randamie. I would love a rematch, if that's what she wants, against Amanda. Right now, I just want to soak it all in."
After capturing her first UFC title, Pena expressed her desire to replicate Nunes' achievement by becoming a champion in two weight classes.
"We can rematch at 135 pounds if she wants to do that, but whatever the company decides," Pena said. "It would be great to be a two-division champion, even to go down to 125 and face Valentina down there. Right now, I just want to soak in the moment of being a champion."
Julianna Pena Is Looking Forward To Some Well Earned Rest
"We can do it next week," Nunes joked of a rematch. "I'm free next month. … In all fairness, I've been in camp for a year. I really think that my daughter deserves some mommy time, some vacation. After that, definitely, if she wants to do a rematch, we can do a rematch. I've always been a company girl. Point me in the direction, and I'll go there."
"I shook up the world, and I did what I said I was going to do," Pena said. "But at the end of the day, I'm not surprised. … I've been through the wash. I've done it all. I'm talking torn everything that you could possibly think of, ran over by cars, hit by dudes in the alleys, I've done it all. Nothing was going to stop me from getting this belt. It's my time." (Transcribed by MMA Fighting)
Who do you want to see Julianna Pena fight next?