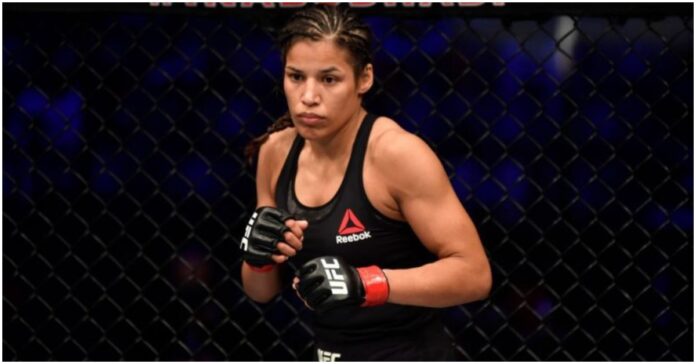 It's fair to say that Julianna Peña has had a lot to say in the build-up to her UFC 269 showdown against UFC bantamweight champion Amanda Nunes. In her latest war of words, Peña has now claimed that steroids have had an extremely strong presence at American Top Team, the gym Nunes currently trains at.
Julianna Pena Details Her Time At ATT
On the most recent episode of the MMA Hour with Ariel Helwani, Peña (10-4) made claimed that Dan Lambert of American Top Team (ATT) told her that most of the female fighters in Coconut Creek, Florida were "shooting their butts with steroids" when Peña spent a week there back in 2013. 
"That was when I won The Ultimate Fighter when everyone was down at the gym shooting their butts with steroids. Yeah, that was that era," Peña said.
"That's literally what their head coach told me. Like, they were welcoming me into the gym, and he was like, 'The girls shoot themselves in the ass in the bathroom. They do it to each other.' And I'm like, 'No, they don't.' And he was like, 'I swear to God they're all on steroids.' I literally didn't believe him and he was literally shaking at me like, 'I promise! They're doing it!'" (Transcribed by MMA News)
When MMA Fighting reached out to Lambert for a response, he simply responded "LOL".
Peña, who won Season 18 of The Ultimate Fighter (TUF), will coincidentally, cross paths again with ATT very soon, as she takes on women's bantamweight and featherweight champion Amanda "The Lioness" Nunes. They were meant to face off at UFC 265, but Nunes unfortunately had to pull out on that occasion. It's not clear whether these comments from Peña are an attempt to imply steroid usage on Nunes' part or not. If they are, it appears to be without any credibility, as Nunes only joined ATT in 2014 following her loss to Cat Zingano.
What do you make of Julianna Pena's ATT steroid claim?