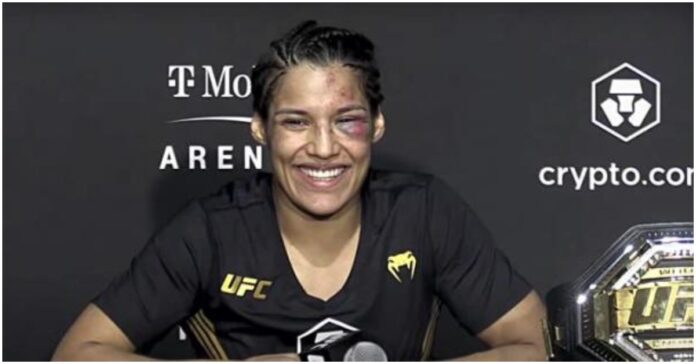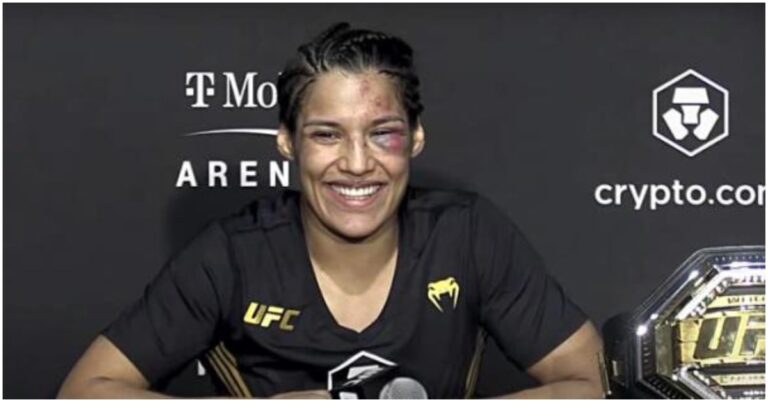 Julianna Pena scored one of the biggest upsets of all-time at UFC 269 when she beat Amanda Nunes to become the bantamweight champion.
'The Venezuelan Vixen endured a pretty tough first frame before turning the tide in round two.
Pena put hands-on Nunes before taking the fight to the floor and choking out the now-former dual-weight UFC champion.
Speaking to media at the UFC 269 post-fight press conference, Pena claimed that she is the first mom champion in UFC history despite the fact Nunes has a one-year-old daughter.
"The UFC absolutely needs to create a new belt for me and it needs to be The Baddest Mom On The Planet," Pena said. "You know, I'm not trying to take anything away from Amanda, she's a wonderful mother, but I gave birth to my daughter. I feel like for giving birth I am the first mom champ and that to me is also a little feather in the cap."
No-One Was Backing Julianna Pena Heading Into UFC 269
Amanda Nunes was -1000 to defend the bantamweight belt against Pena who until now had not shown herself to be championship material.
The Ultimate Fighter winner had gone 2-2 in her last four fights and was considered by some lucky to be getting a crack at Nunes, especially after she suffered a submission loss to striking specialist Germaine de Randamie.
Even Nunes was dismissive of Pena ahead of UFC 269.
"She's a clown, (She) wants attention. That's it," Nunes said during fight week. "She's delusional, What about her best friend Miesha Tate? What about Sara McMann? Sara McMann almost beat her. Sara McMann gave up in the fight. If she didn't give up, she would have beat Julianna. But I beat Sara McMann years ago."
"I feel like she can talk whatever she wants. I feel like she has to do that to be able to bring all the attention, but I'm going to tell her, she can have all the attention she wants. All of it. Because Saturday is my night, December is my month. Nobody's going to take this belt from me."
"Julianna has all the holes where I can finish her on the floor as well, Germaine (de Randamie) finished her. Germaine de Randamie is a striker and she finished Julianna Pena (on the ground). I feel like my game is way above all those girls she fought.
"We're going to see what's going to happen. I just need a mistake from her. In striking, in the floor, whatever she brings up, I'm going to have the answers and I'm going to finish the fight."
Do you consider Julianna Pena the first mom champ?