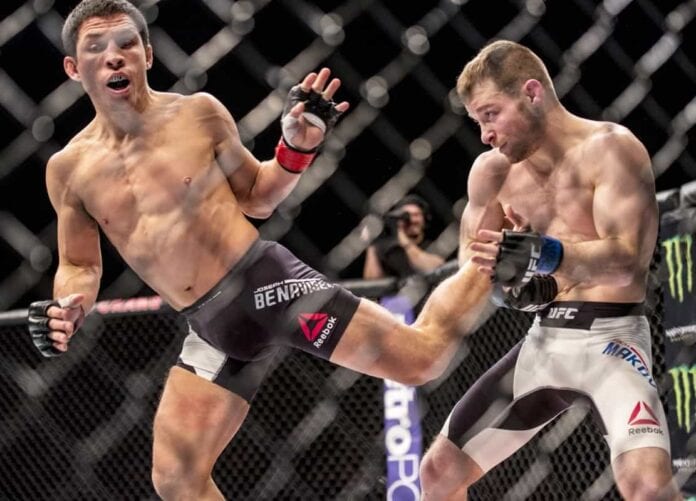 It appears No. 1 ranked UFC flyweight Joseph Benavidez (24-4) has followed in former bantamweight champion TJ Dillashaw's footsteps, and has parted ways with Team Alpha Male.
In a recent interview with Stud Show Radio via Bloody Elbow, Alpha Male head coach Justin Buchholz confirmed the news,
"He did leave the team. I mean, you train here in Sacramento, you're part of Team Alpha Male, or you don't live here," Buchholz said.
"He hasn't trained at all since I took over as head coach. I mean, I don't know. I thought Joe would at least give a chance of me, and Danny, and Holdsworth running this new program along with Master Thong and Joey. But he never did. He came in town for one week, he moved his house, did, like, one boxing class."
Joseph follows a similar blueprint as Dillashaw, who said his farewell to Sacramento to join Colorado's Elevation Fight Team. Dillashaw left Team Alpha Male in October of last year for a lucrative contract in addition to be able to train with Ludwig for his title defense against the returning Dominick Cruz.
Dillashaw took a lot of heat from fellow teammates for leaving the camp, including his now-former friend and TAM founder Urijah Faber. Dillashaw would go on to lose his title bout via split decision following his first camp since leaving Alpha Male.
Buchholz holds no grudges however, and feels that Benavidez will reunite with his former teammate once again.
"I'm not upset at him for leaving because he didn't leave under me as head coach," he said. "I think he's going to do some camps out there (Colorado)."

Benavidez is riding a five-fight win streak, including his recent unanimous decision win over Zach Makovsky in early February.