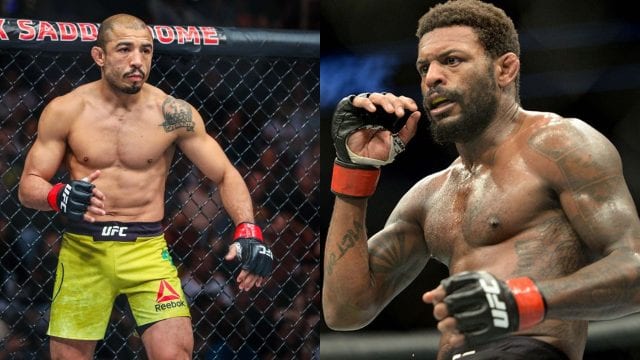 Jose Aldo's coach responds to a callout that was recently issued by Michael Johnson. Earlier this week it was reported the former UFC featherweight champion would take on Cub Swanson in a rematch at UFC 233.
This event is set to take place on Saturday, January 26, 2019, at Honda Center in Anaheim, California. The main card will air on pay-per-view at 10 p.m. ET. The preliminary card will air on ESPN at 8 p.m. ET and the TV network's streaming service, ESPN +. However, this fight ended up falling through after Swanson denied accepting the bout. Now, the UFC is looking to get him a new opponent.
This leads us to current featherweight star Michael Johnson taking to his official Twitter account where he issued a challenge to Aldo. This fight would still take place at UFC 233.
Since cub can't make that date in January @josealdojunior. I have no problem going back to Cali Cali. pic.twitter.com/dVwUIcGQSR

— Michael Johnson (@FollowTheMenace) December 3, 2018
It didn't take long for Aldo's team to make it known that they're willing to accept this fight but at UFC Fortazela. His team has a certain goal in mind which is to finish his UFC contract by fighting three times next year.
"We accept Michael Johnson," Aldo's coach Andre Pederneiras told Combate. "That's an interesting fight for us. It would be a great fight for the fans. They're both strikers, just like it was against Jeremy Stephens. It's not that we want to pick opponents for these last three fights, but Aldo intends to finish his career with big fights.

It's no use facing a wrestler who'll try to grapple and make a boring fight. We must pick the right fights, great ones, no matter the results, but they must be great. I wanted Aldo to have those fights at featherweight so he could finish his contract with a title shot. That's the truth. We're waiting on the UFC."
If you enjoyed this story, please share it on social media!