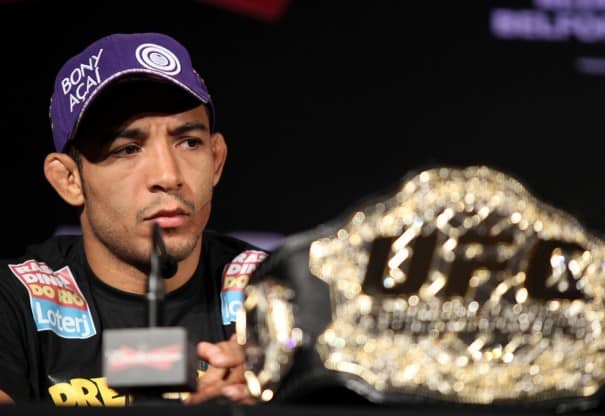 Despite the glaring fact that he's racked up seven consecutive title defenses as the only featherweight champion the UFC has ever known, Jose Aldo is seemingly getting thrown under the bus by his boss, UFC President Dana White.
White and the UFC insist the rib injury that forced Aldo out of his awaited UFC 189 clash with rival Conor McGregor was just a bruise, but Aldo and his team provided documentation that it was indeed a broken rib. The UFC didn't exactly agree with that, but in any case, Aldo will most likely return to face 'Notorious,' who finished late replacement Chad Mendes in the main event of UFC 189, in a title unification bout next, perhaps in Las Vegas early next year.
UFC CEO Lorenzo Fertitta proclaimed that Aldo was 'chomping at the bit' to get back to training and face McGregor, and if a recent interview with Rock Bola (via MMA Fighting) us any indication, that speculation is true. Aldo said that McGregor's time will soon come, and he will smash the interim champ with ease when it does:
"We will run through him no matter when the fight happens, but his time will come," Aldo said. "When it does, you can be sure we will smash him."
Aldo also said that he is recovering well from his injury and should be back to training in about two weeks, as he simply awaits a doctor's clearance:
"I'm still recovering, should be back to training in two weeks," he said. "I'll do more exams. As soon as the doctor clears me, I'll be back to training."
Currently sitting as the world's No. 1-ranked pound-for-pound fighter, Aldo has made an unfortunate history of pulling out of repeated title fights due to injury. But he's also returned to silence his critics by defeating everyone they've set before him, and in truth, he's actually defended his title quite a bit more than some UFC champions who were injured during his reign.

It seems like a forgone conclusion that he and McGregor will have to settle their rivalry in the octagon. But when?