Jorge Masvidal Claims Nate Diaz Fight Is Being Negotiated Right Now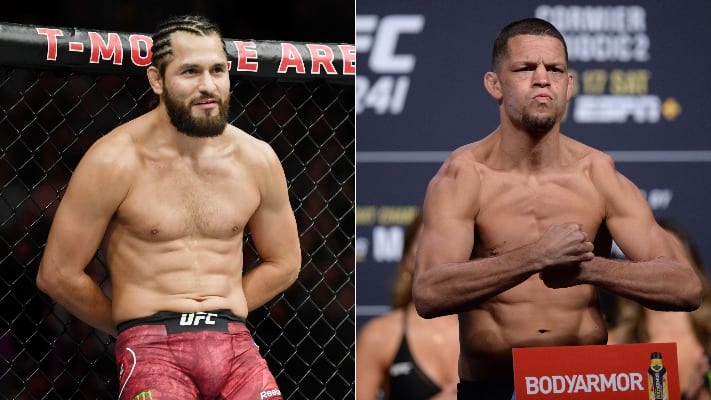 It looks like mixed martial arts fans just might see Nate Diaz and Jorge Masvidal throw down soon.
Diaz returned to action for the first time in three years this past weekend at UFC 241 when he defeated Anthony Pettis via unanimous decision. After the win, he proceeded to call out Masvidal for a fight that has got fans and the combat sports world excited.
Masvidal was excited himself as the camera panned to him in the crowd and a couple of days since the event, he finally responded to the callout:
"Nate was right about one thing — I ain't no West Coast gangster," Masvidal said in a recently uploaded video. "Shoutout to the West Coast, I get a lot of support from over there, great vibes over there. I'm from Miami Dade county. I'm a dirty South goon. Damn right, I ain't no West Coast gangster. I'm from the MIA, baby. I'm ready. I'm ready to put it on the line.
"I'm so gangster, we can do it – besides the 7 percent tax in Cali, I would love to do it in Cali. People were asking me 'hey, why don't you do it back home?' Home for me is the road. I don't have like a home. My home is the road. I don't care if it's in Miami or where it's at, I just like to fight. I'm used to fighting outside my home city so the road is my home, it's where I feel most safest at. So my Miami peeps, don't get mad at me if the fight is not here. I'm just going to do what works."
Diaz Fight Being Negotiated Right Now
Masvidal even claimed a bout with Diaz is currently being negotiated right now which only serves as good news for fight fans:
"We ready for this fight man," he added. "We're just negotiating. Let's give the fans a fight they want to see. Two dogs locked in a cage, going for the jugular. You know that I can get hit with a baseball bat, it don't mean nothing. Same thing with my rival — you can hit that dude with a fucking baseball bat to the kneecaps, he's going to keep coming.
"It's a fight that the fans want and they're going to get man. I'm going to give it my all, Nate's going to give his all, let's do it."
Masvidal later stated that the fight could happen in December and that he's not too fond of competing at UFC 244 which takes place in New York's Madison Square Garden.
What do you think of Masvidal's response? Do you think we'll see the fight before the end of the year?