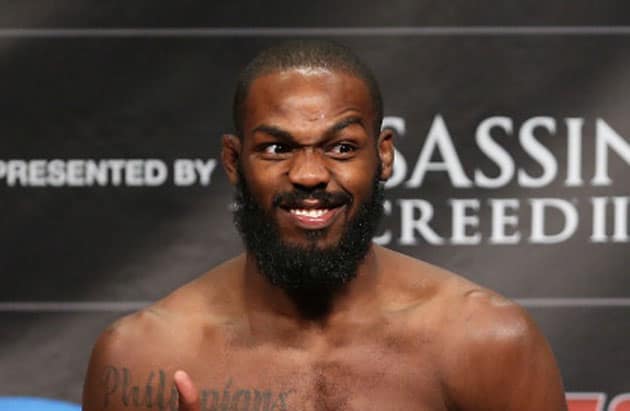 If it seemed like UFC 187's stacked card was too good to be true, then maybe you were right.
After an initial report from MMA Weekly that UFC light heavyweight champion Jon Jones was involved in a car accident and was out of UFC 187, it was later confirmed that Jones was involved in a hit-and-run accident in Albuquerque, New Mexico, this morning:
We can confirm Jones in accident. Fight has not been cancelled. Solid source initially said it was but retracted after report went public.

— Ken Pishna (@KenPishna) April 27, 2015
According to MMA Fighting's Marc Raimondi, Jones is wanted for questioning in an alleged incident where a woman's car was struck and the offender fled the scene. The Albuquerque PD tweeted that Jones had not been confirmed as having been in the accident and the investigation was still ongoing:
We CANNOT confirm that Jon Jones was involved in a H&R traffic accident from this morning. The investigation is ongoing. — Albuquerque Police (@ABQPOLICE) April 26, 2015
Simon Drobik, a spokesman for the Albuquerque PD clarified that while no warrant had been issued for Jones' arrest, he could not be confirmed nor ruled out as a suspect. The police were looking for Jones in order to question him:
"[We] don't know where he is right now," said Drobik. "We're trying to figure that out."
Apparently they found him, however, as ESPN's Brett Okamoto reported that Jones was then upgraded to a suspect in the case and will face a misdemeanor charge:
Update: Jon Jones has been upgraded to a suspect in hit-and-run case, per ABQ PD. Faces a misdemeanor charge. http://t.co/AB6s1S2yDS

— Brett Okamoto (@bokamotoESPN) April 27, 2015
Drobik confirmed Jones' status as an official suspect to ESPN, now detailing that the incident involved pregnant woman:
"The case has progressed and he is now our suspect in the hit and run that happened earlier this morning involving a pregnant female," Drobik said. "We are now definitely looking at him as a suspect."
The UFC soon issued a standard response to the situation in an official statement:
"We are aware that the Albuquerque Police Department is interested in speaking to Jon Jones regarding his possible involvement in a motor vehicle accident. We are in the process of gathering facts and will reserve further comment until more information is available."
This isn't the first time Jones has found himself in some hot water concerning an automobile transgression, and his quickly falling reputation can hardly use the hit after his failed cocaine tests exploits earlier this year.
Regardless, here's to hoping that the woman involved, who was taken to the hospital with minor injuries, recovers fully and quickly.
As for Jones, well, he's still on UFC 187 as of right now, and that's what's really going to matter to mixed martial arts (MMA) fans. But with a seemingly endless stream of out-of-the-cage trouble following "Bones," can he keep his nose clean long enough to make it to May 23?
Photo Credit: Tom Szczerbowski-USA TODAY Sports