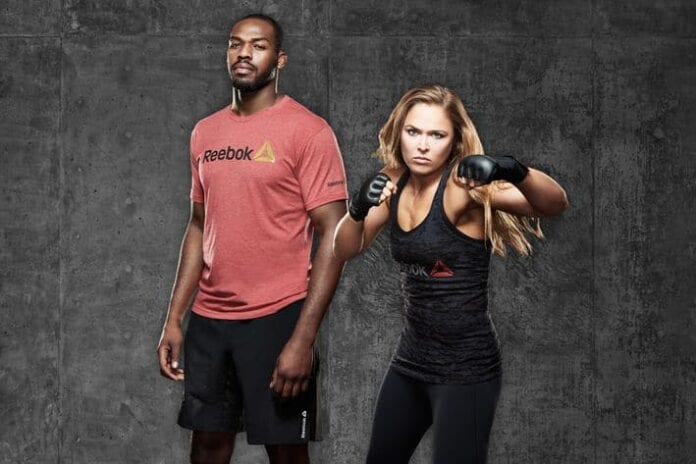 With a major class action lawsuit set to be leveled at the UFC by current and former fighters at 4 p.m. today, a few of the promotion's top (non-disgruntled) athletes are starting to benefit from the recent uniform partnership deal with Reebok.
The athletic apparel company announced today (Tues., December 16, 2014) that light heavyweight champion Jon Jones, who was recently dropped by from his sponsorship del with Nike following his now-infamous UFC 178 media day brawl with Daniel Cormier, has signed on as one of their new faces of MMA.
He'll be joined by dominant women's bantamweight champion Ronda Rousey, who, as arguably the UFC's top draw, was a no-brainer signing for the sponsorship deal.
In a Reebok press release, the company stated that Jones and Rousey "will be working closely with Reebok to help develop and launch the brand's new range of UFC apparel, as well as a new collection of footwear and apparel specifically created for the more than 35 million people around the world who participate in combat training to stay fit."
Largely criticized for being a less-than-genuine champion, Jones put his best public face forward to voice his excitement at the signing:
"Reebok is working with UFC to take the sport to the next level. It's going to be an amazing journey and I'm incredibly proud to be a part of it. The brand has a great history in fitness and training, and that comes through in everything they do. What I'm particularly excited about is that the input of the fighters is going to drive the product innovation, which will ensure all athletes, whether they are fighting for a world championship or just to be fit, will have the very best gear."
For her part, Rousey touched on how the deal would benefit women athletes:
"From the very beginning, it was clear to me that Reebok is passionately invested in our sport and its athletes. The team is committed to helping push our sport forward and I am proud to be part of it. Reebok understands what tough fitness means for women and what women need for their fitness lifestyle. Together we're going to inspire even more people to train like fighters."
After signing lightweight champion Anthony Pettis and former welterweight champion Johny Hendricks, Reebok is obviously taking an aggressive approach to their MMA apparel department.
However, they could run into some big roadblocks depending on just what transpires in the potentially game-changing lawsuit. But big name champions were never the ones that stood to be harmed by the new uniforms; it was mainly the mid-tier fighters who would lose out on sponsorship dollars.

It's going to be a big mess, but at least Reebok has the massive stars they were looking for.