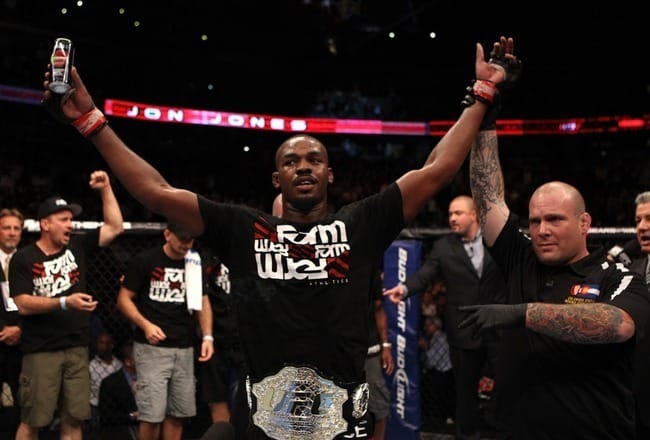 Jon Jones is the former UFC light heavyweight champion. He's also the former pound-for-pound king, and at just 30 years of age, many consider him to be the very best fighter of all-time.
But due to legal and personal issues he's encountered outside of the cage, Jones has not only competed just once over the last two years, but he's also had his light heavyweight title, as well as an interim light heavyweight title, stripped from him by the UFC.
Now, however, Jones has seemed to sort out his problems (at least for the time being), and he'll finally return to the Octagon in the main event of this weekend's (July 29, 2017) UFC 214 from the Honda Center in Anaheim, California, as he's slated to take on bitter rival Daniel Cormier in a highly anticipated and long awaited rematch of their UFC 182 bout, which Jones won via unanimous decision.
With that being said, there's no better time to take a look back at one of the most impressive runs in UFC history, and highlight Jones' five most dominant Octagon performances: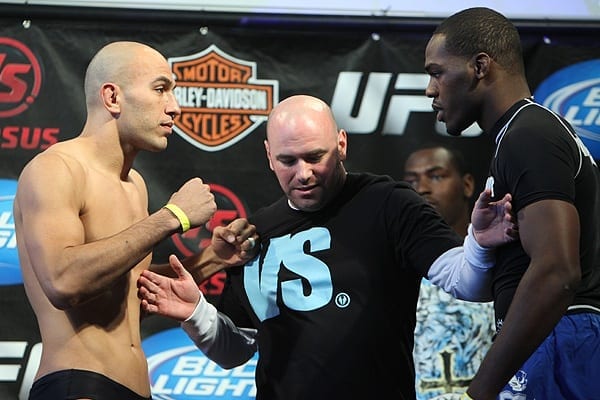 Jon Jones vs. Brandon Vera – UFC on Versus 1
In just his fifth UFC bout, Jones was slated in the main event spot to meet veteran Brandon Vera on March 21, 2010. Despite the fact that Vera, a Muay Thai specialist, had won two of his previous three bouts, he proved to be no match for the up and coming Jones.
Just seconds into the fight, "Bones" used his wrestling background to land a perfectly executed takedown. He would then take Vera down once more later in the opening round, and after eating an illegal up kick, Jones unleashed on a brutal barrage of ground and pound that began with his now patented elbows. "The Truth" simply had nothing to offer Jones, and the finish, which is certainly one of Jones' most impressive, capped off one of the most dominant performances of the now ex-champion's career.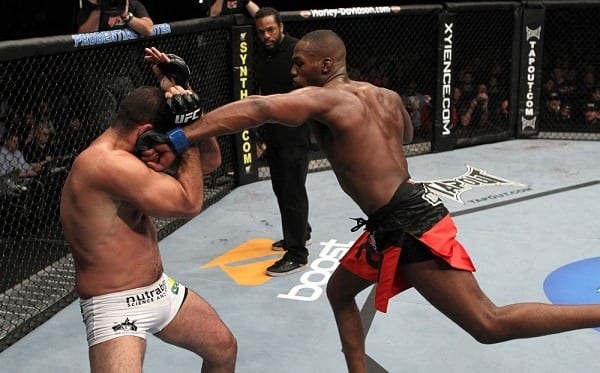 Jon Jones vs. Mauricio Rua – UFC 128
After starting his UFC career 6-1, with that lone loss coming by way of DQ in a bout he was clearly winning, Jones was given a shot at the light heavyweight title at UFC 128 on March 19, 2011. Jones would have to get through the legendary Mauricio "Shogun" Rua to secure the title, but that proved to a very doable task for the then 23-year-old Jones.
At the time, "Shogun" was one of the very best fighters on the planet, and he had won three of his previous four fights heading into the bout with Jones. However, Rua, an accomplished grappler and striker, had little success against Jones.
"Bones" controlled "Shogun" on the canvas over the course of three rounds, battering the Brazilian with brutal ground and pound before dropping a tired Rua with a brutal body shot that was followed by a knee in the third round that left the referee with no choice but to stop the fight. The win marked the beginning of Jones' legendary title reign, but it also lands as one of the most dominant of his career.

Jon Jones vs. Quinton Jackson – UFC 135
At UFC 135, which took place on September 24, 2011, Jones put his title on the line for the very first time against the the widely popular and incredibly powerful Quinton "Rampage" Jackson.
The back-and-forth trash talk between the two was entertaining, but Jones proved to be the superior fighter on fight night, out striking Jackson, while avoiding his opponent's big shots. Jones also saw quite a bit of success in the clinch, while also using a wide array of kicks on the feet to not only keep his distance, but to really do damage to "Rampage's" legs. In addition to the kicks, Jones' use of knees, elbows, and stance switches appeared to overwhelm his adversary.
As the fight wore on, Jones was eventually able to drag the fight to the mat where he locked in a rear-naked-choke in the fourth round to score an impressive and one-sided stoppage victory.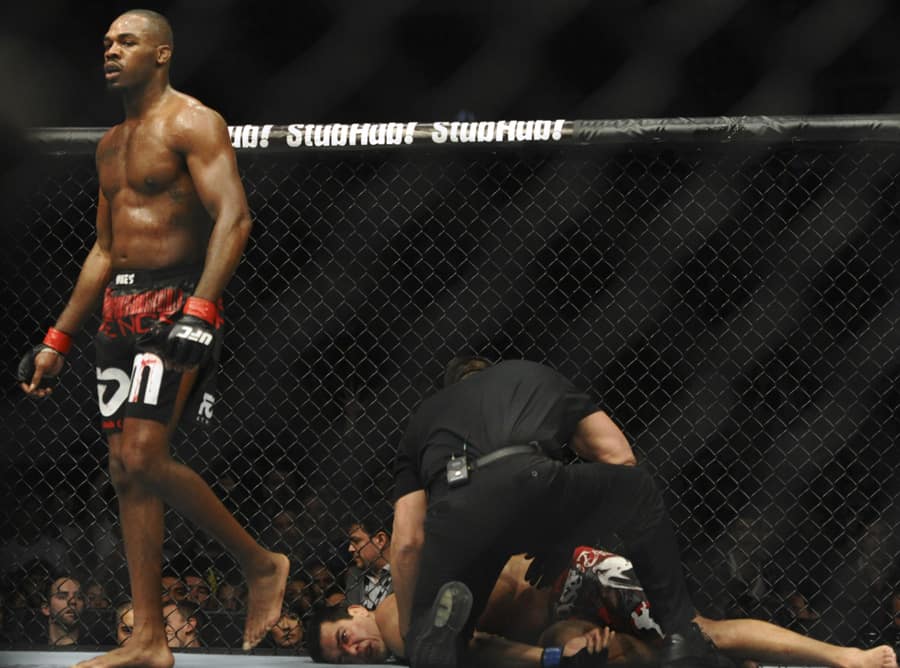 Jon Jones vs. Lyoto Machida – UFC 140
After outclassing Jackson, Jones next put his 205-pound strap on the line against Lyoto Machida at UFC 140 on December 10, 2011.
Perhaps for the first time in his UFC career, Jones was actually faced with quite a tough task, as Machida darted in and out of the pocket to avoid many of Jones' biggest shots, while using his trademarked counter striking style to land some impressive strikes of his own in the opening round. At one point, Machida even landed a powerful left hand that appeared to momentarily stagger Jones.
In the end, however, it was once again "Bones" who ruled supreme. In the second round, Jones seemed to find his groove, and he eventually used his grappling to seal the deal, locking in a brutal standing guillotine choke that sent an unconscious Machida crashing to the canvas.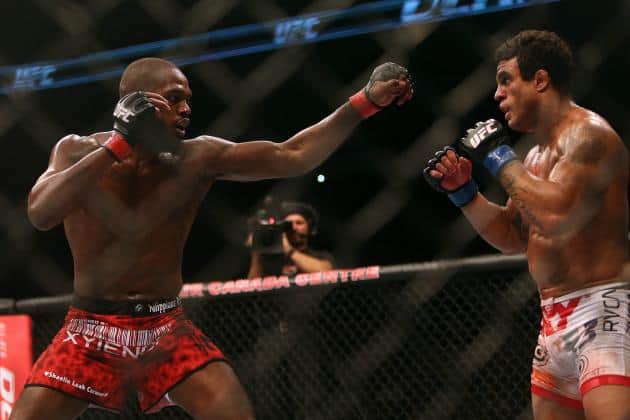 Jon Jones vs. Vitor Belfort – UFC 152 
At UFC 152 on September 22, 2012, Jones put his title on the line for the fourth time against yet another legendary Brazilian in Vitor "The Phenom" Belfort.
And once again, Jones was faced with adversity, as Belfort came dangerously close to finishing the fight with an arm bar attempt in the opening round. It was later revealed that Jones' arm was actually injured by the attempt as well.
From there on out, however, Jones was nothing short of dominant. He used brutal ground and pound from the top position to batter and bloody Belfort, while completely out striking the typically powerful and explosive Brazilian on the feet. And in the fourth round, Jones closed the show, locking in an americana arm lock that forced "The Phenom" to tap.