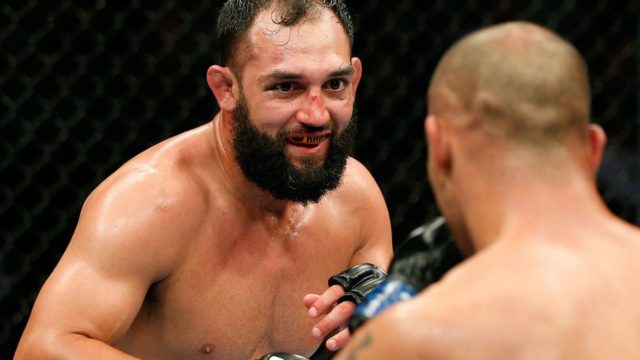 Johny "Bigg Rigg" Hendricks was once the UFC 170-pound champion.
Since losing the title to fellow former champion Robbie Lawler at UFC 181, Hendricks' fighting career has taken a downward spiral filled with unfortunate losses and brutal weight cuts.
He will return to action at this Friday's (Dec. 30, 2016) UFC 207 against Neil Magny, however, and he recently said on the UFC Unfiltered podcast that he's returned to a way of training that earned him championship status years go:
"I'm fighting one fight at a time finally," he said. "Now I can really sit there when somebody goes, 'Johny what's next for you?' S–t, I don't know. I really don't know. That takes a lot of pressure off me. As of right now I'm not thinking of anything. All I'm thinking about is Neil Magny. I'm finally on that aspect. The belt is always there in the back of my mind, don't get me wrong. I'm finally doing what got me to the belt in the first place. Saying,' I don't care who's next. All I care about is this person right here.' If I go out there and I perform like I need to, the belt will come. If I continue to fight. That's the kind of attitude that I need to have to get back to where I want to be."
Hendricks is currently riding a two fight losing streak that includes losses to top contender Stephen Thompson and Kelvin Gastelum. "Bigg Rigg" has even discussed the idea of retirement in recent months, but a win over the No. 8-ranked Magny could give him a boost given the fact that he remains well-known and ranked No. 6 in the division.
Who do you see coming out on top of this welterweight bout in Las Vegas?
If you enjoyed this story, please share it on social media!