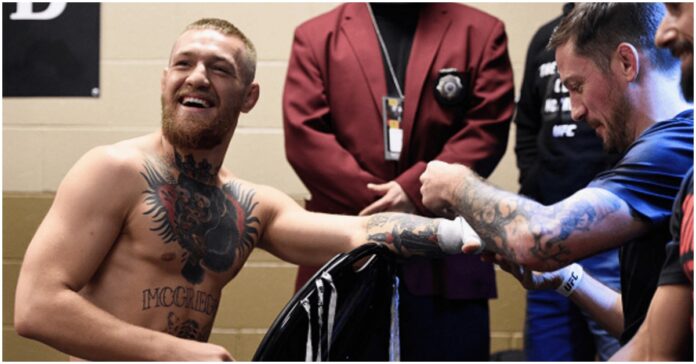 Conor McGregor continues to make strides in his bid to recover from the fractured tibia and fibula he suffered at UFC 264 in July. So much so, that his long-time coach, John Kavanagh, has been openly talking about who 'Notorious' may face in his comeback fight.
The SBG head coach recently made an appearance on The MMA Hour to discuss his star pupil and who the former dual-weight UFC champion may take on when he returns to the Octagon in the summer of 2022.
"I'll be honest, the Nate Diaz trilogy is very, very tempting," Kavanagh said. "It's a fight that gives me nightmares. The man doesn't stop coming forward, whether it's three rounds or five rounds, but it's an intriguing fight.
 "So that one is definitely very interesting. But also the Tony Ferguson one — it never happened. It was talked about a lot. And Tony still has, I believe, a lot to offer the game," Kavanagh added. "He's a very unorthodox striker, grappler. I think the build-up would be fun for the fans. So any of those kind of legacy guys."
John Kavanagh Refuses To Rule Out Any Top Lightweight Fighter
While Kavanagh prepares to see McGregor in a legacy fight, the man himself has been vocal about wanting an immediate title shot when he returns.
During his chat with Ariel Helwani, the Irish MMA coach was sure to mention a few other options for McGregor, including a fight with the winner of the UFC 269 main event.
"Look, that division is killer," Kavanagh said. "Your Dan Hookers in there. The Islam [Makhachev] fight would be amazing as well, for obvious reasons. And we have whoever is going to win this belt coming up this Saturday. So, look, any of those names. I'm just excited to see Conor back healthy, training."
What do you make of John Kavanagh's preferred opponents? Who should Conor McGregor face in his comeback fight?