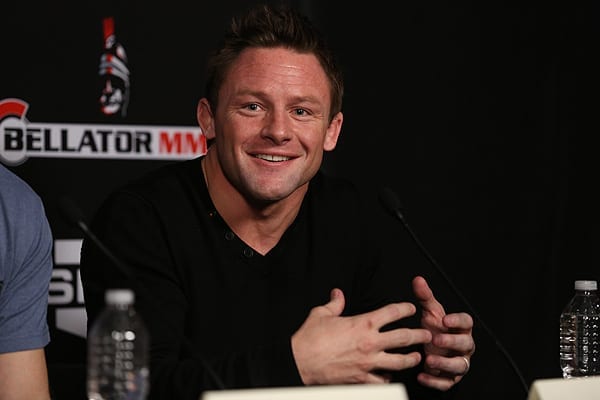 Former two weight Bellator MMA champion Joe Warren has been popped for Marijuana, just months after stating Nick Diaz must 'face the music' for breaking the rules. Warren last competed at Bellator 143, where he grinded out LC Davis for the unanimous decision win.
Warren has been caught twice before with Cannabis in his system, although both other times were during his wrestling days. 'The Baddest Man On The Planet' competed on September 25, 2015, and headlined the Texas based card on Spike TV. According to Jason Floyd of The MMA Report, Warren failed post fight tests for Marijuana:
Joe Warren tests positive for marijuana at Bellator 143 http://t.co/Idvhl76N19

— Jason Floyd (@Jason_Floyd) October 9, 2015
WADA limit for marijuana is 150 ng/ml. If Texas was the same level, Joe Warren is likely fighting Marcos Galvao in 2 weeks — Jason Floyd (@Jason_Floyd) October 9, 2015
Would explain why Warren is not getting the Galvao fight on 2 weeks

— Jason Floyd (@Jason_Floyd) October 9, 2015
While the limit in Nevada is 150 ng/ml, unfortunately for Warren he fouled in Texas. That said, the mandatory 90-day suspension is unlikely to cripple the ex-champion's fighting future. Check out what Warren said just a month ago after Nick Diaz's high profile NAC (Nevada Athletic Commission) hearing for his supposedly failed UFC 183 drug test:
"It's a law, though. I'm the first one to say, you break a law, you've got to deal with it. So we all know this. It sucks that they're doing this because of THC – it's not a performance-enhancing drug, and it's legal in most of the states that we live in. But it's the law, and he knows it, and we all know the law. It sucks."
So yet another high profile positive dope test, but a relative slap on the wrist in comparison to Nick Diaz's final punishment, should the Texas commission go by their statutes.
More on this story as it develops, stay tuned.