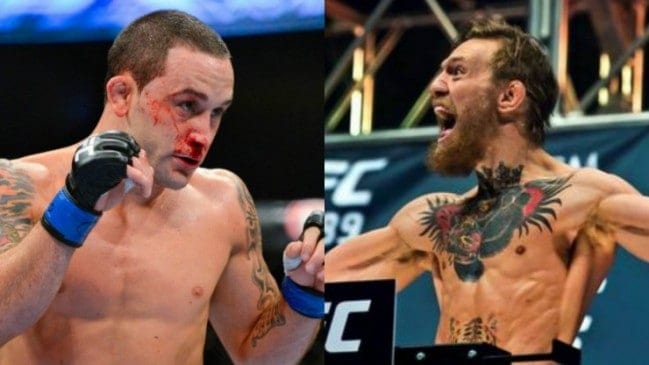 After suffering a disappointing loss in a welterweight clash with Nate Diaz at March 5's UFC 196, featherweight champion Conor McGregor is expected to drop back down to 145-pounds to defend his title at July's UFC 200.
While his opponent has yet to be announced, the two front runners appear to be former divisional kingpin Jose Aldo, who McGregor knocked out in just 13-seconds last December, and surging former lightweight champion Frankie Edgar.
According to UFC color commentator Joe Rogan, Edgar would definitely be the biggest fight for the outspoken featherweight champ at this point. Rogan also suggested that Aldo build himself back up after such a devastating defeat:
"Frankie Edgar is a way easier sell," Rogan said Tuesday on his podcast The Joe Rogan Experience. "Maybe if Aldo comes back and wins in spectacular fashion, like if he and Cub Swanson have a rematch. Because Swanson-Aldo went the same way Aldo and McGregor went. Aldo hits him with a flying knee two seconds into the fight cracks him. Aldo has to win again. You could sell [Aldo-McGregor II], but you wouldn't sell it for as much as if Aldo won."
Many have deemed "The Answer" to be McGregor's toughest challenge given the fact that Edgar possesses an endless gas tank, and a decorated wrestling background, which has appeared to be the Irishman's weakness.
Rogan agrees with the masses, albeit noting McGregor's unparalleled knockout ability:
"Frankie Edgar is a 48-hour storm," said Rogan. "You better have everything strapped down. He's not going to get tired and he's going to keep coming at you. He can wrestle his ass off. His footwork is sensational. I think Conor can knock out anybody, but you know what? So can Cub Swanson and he didn't connect on Frankie. Frankie just wolverine'd him.
"Look at the Chad Mendes fight. Conor had a knee injury coming into it but Chad took him down at will. When Frankie gets you tired… What he did to Cub Swanson was incredible. Frankie's not a huge draw but it's a big fight."

Who would you rather see the "Notorious" one square off with this summer?